Millions of tourists come to the Netherlands and Amsterdam every year. They would like to see the beautiful capital and other wonderful sights in the Netherlands. For many tourists from large countries, it is unusual to be able to visit the neighboring country quickly and easily. This makes a visit to the Netherlands even more attractive. From Amsterdam, you can make trips to, for example, Belgium or Germany. For all the people who would like to make a trip like this, we made the "Best places to visit in Germany from Amsterdam" 2023 guide.
A weekend escape or an overnight trip to neighboring Germany can be easily done from Amsterdam. From Dusseldorf to Dortmund, you can go anywhere nearby without breaking the bank or taking up too much of your free time. This allows you to discover even more beautiful places.
There are so many German cities that you can consider traveling to from Amsterdam. But in this article, I will only list the best places to visit in Germany from Amsterdam for a trip over the weekend. To find out more about traveling to Germany, explore this article with me. 
Best Places to Visit in Germany From Amsterdam 
You do not need to go on an arduous journey to have a fun or relaxing weekend abroad. You can do so by visiting your neighboring country too. So, why not take a weekend trip to Germany? 
This article is, therefore, interesting for both Dutch and tourists staying in the Netherlands. This way, tourists visiting the Netherlands can easily discover even more of Europe during their trip. But many Dutch people also like to visit a city in Germany regularly.
The travel connection between Germany and Amsterdam is affordable and convenient. Moreover, Germany has a lot to offer, so you can get to know their culture, visit beautiful cities and, last but not least, taste the German beers.
I have listed below 5 German cities near Amsterdam that you can visit for an overnight trip.  
1. Cologne
While planning your weekend gate away from Amsterdam, you cannot miss Cologne, the cultural hub of West Germany. The 2000-year-old city is only 2 hours and 48 minutes from Amsterdam by train, making it perfect for an overnight trip nearby. 
The Romans built the city on the bank of the river Rhine around the 1st A.D. The same city rebuilt itself after it was flattened during WW2. Hence, the whole city is a shrine to history. Remnants from the Roman era to the World War, you will find it all here.
Amidst the grungy city, you will find medieval churches and buildings. The Gothic churches and Roman towers, in contrast to modern sterile concrete buildings, will make exploring the city feel like traveling through time.
If you stroll through the city's Altstadt (Old Town), you will stumble upon Romanesque old churches like the Great St. Martin, alleyways filled with traditional homes, historical monuments and fountains, and much more. You can check out these traditional colored houses of Cologne as they have been turned into quaint boutiques, galleries, restaurants, and cafes. 
Taking the route down the Old Town and the Rhine, you will also find the towering landmark of Cologne, the Cathedral of St. Peter and St. Mary. This breathtaking cathedral is a masterpiece of medieval High Gothic architecture. Built over a time spanning 600 years, this cathedral is a UNESCO World Heritage site today.  
Ascending over 500 steps from the roof of the Cologne Cathedral, South Tower, you will get an exquisite panoramic view of the Rhine and the Hohenzollern Bridge. If you want a closer look at the illuminating bridge, hop on the Rhine River cruise at night. The nighttime view of the historic city from the Rhine won't disappoint.  
Relish the sweet delicacies and design your chocolate bar at the Cologne Chocolate Museum. Before leaving the city, do not forget to try out the famous Kölsch beer.
2. Münster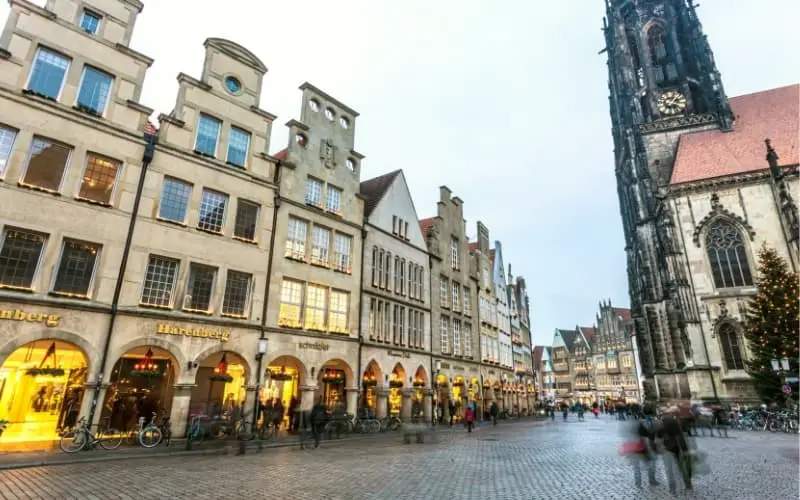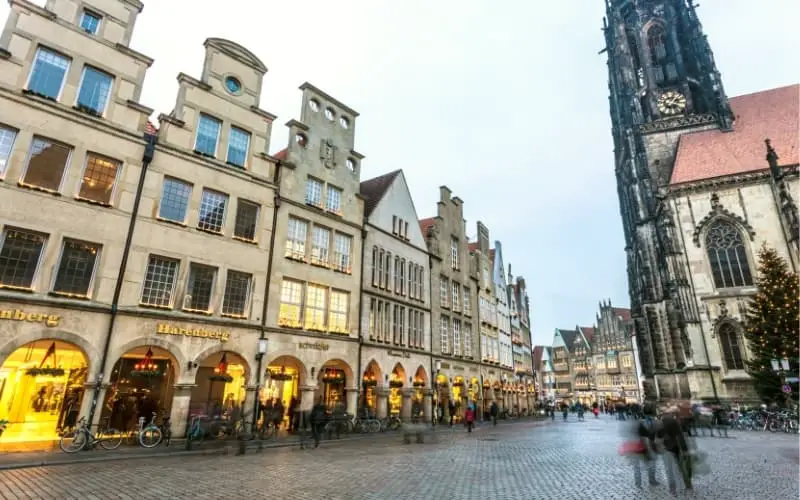 Escape your monotonous life by exploring the rustic German city Münster over the weekend. You will not find the hustle and bustle of Amsterdam here, nor streets teeming with tourists. Having stated that you will find no shortage of interesting places to visit at leisure in Münster.
After you reach Münster, take a tour through Prinzipalmarkt. Along with rows of Renaissance-themed limestone buildings, you will find the significant landmarks of the city, the City hall, St. Paulus Dom, and St. Lambert Church. At the Prinzipalmarkt, you will not only take in Münster's glorious past but also explore the designer shops, boutiques, and restaurants.
You can admire medieval and high Gothic architecture while visiting St. Paulus Dom and the City Hall of Münster. The high arches, gables, and all-over elegant architecture of the City Hall are sure to stop you in your tracks. The proud twin towers, giant clock, numerous murals, statues of Jesus, and the 12 apostles of St. Paulus Dom make it a sight to behold.
If you want to enjoy a peaceful day out in Münster, head over to Lake Aasee. Here you can laze around, stroll, or go boating. You can enjoy a nice picnic with your family in the park or visit the zoo nearby. If you are traveling solo, why not have a quiet date with a book at any of the coffee shops around the lake?
Enjoy your blue sky spring holidays around blossoming flowers in the park of Burg Hülshoff. The 16th-century Renaissance castle that used to be the home of poet Annette von Droste-Hülshoff. You can get an audio-guided tour through the castle and explore various artifacts of the famous poet. 
Like Amsterdam, Münster, too, has a nice network of cycling paths. To feel at home without any work-related worries, you can cycle around and explore Münster in peace. At night you can check out a few of the 1000 pubs of Münster and end your day with some quality German beer. 
3. Heidelberg
Visit Germany's oldest university town, Heidelberg, in 4 hours, 57 minutes by train from Amsterdam. Check out for yourself why it was called the most inspiring city in Germany and a City of Literature in 2014 by UNESCO.
On your weekend gate away from Amsterdam, explore the rich literary history and medieval architecture of Heidelberg, Germany. Start exploring the historic city from its narrow main street, Hauptstrasse, and move on to the Old Town. 
Strolling through the Hauptstrasse, you will stumble upon several medieval buildings, churches, galleries, boutiques, restaurants, and cafes. At the south of the Hauptstrasse, you will find the Universitätsplatz, which dates back to the 18th century. Your introduction to the literary history of Heidelberg will start from here.
A visit to Heidelberg University and a stroll through the Philosopher's Way will fill you with inspiration. The city houses the oldest university in Germany and one of the strongest research centers in Europe. Notable German scholars such as Franz Boas and Max Weber are alumni of this university. 
The main attraction near the Old Town is The Heidelberg Castle. This 16th-century castle is a masterpiece of German Renaissance architecture. If you visit Heidelberg between June to August, you will be able to catch the various festivals and fireworks that take place in the courtyard of this castle. 
Heidelberg Castle Festival featuring choral music, opera, jazz, folk, and eclectic music, is one of the most famous events that occur here. From the castle, you will also get a spectacular view of the Old Town below. You can reach the castle via a cable car or take a 15-minute walk from the Old Town.
The appeal of Heidelberg does not end here. Besides the Castle and the Old Town, you can visit Heiligenberg Hill or the parks around the Neckar River. Along the Neckar River, you will find a well-famed Old Bridge, which has been immortalized in several paintings and poems. From here, you can quietly marvel at the scenic view of Heidelberg.
Opposite the Neckar River and bridge, you can climb the Heiligenberg Hill. Walk along the bridge and Philosophers' Way, and you will soon find the hill. On top of the hill, you will find the ruins of St. Michael monastery and get another glimpse of German history. 
4. Hamburg
If you want to let loose on an overnight trip to a foreign country, Hamburg, Germany, is the place to visit. Here, you can get the best of both worlds. Enjoy wild nights partying at Reeperbahn and serene Sunday morning strolls at the St. Pauli Fischmarkt. 
 The laidback and liberal nature of Hamberg can be most felt in its red-light district, Reeperbahn. Head over to one of the many bars at this wild party strip and get yourself some drinks, and have a good time.
Reeperbahn is not only famous for its wild parties visited by world-famous DJs but also the Beatles. Yes, you have read right. The Beatles used to play in the Reeperbahn strip while they rose to fame. If you are a major Beatles fan, you are going to love the Beatles tour of Hamburg. 
If you are looking for a slightly less crazy night out, head over to Sternschanze district. Try out the craft beers of Altes Mӓdchen. In Hamburg, you can drink beer in the morning while relaxing at the Alster Lake. You can drink beer pretty much everywhere in Hamburg, as there is no prohibition of drinking alcohol on the streets. 
Like Amsterdam, Hamburg is also a port city. Except Hamberg has more canals than in Amsterdam. You cannot leave Hamburg without taking a canal tour around the world's largest warehouse district, Speicherstadt. The view of the illuminated red brick, Neo-Gothic buildings standing on timber-pile foundations is spectacular at night.
On your way to the Speicherstadt district, visit the Chocoversum. Explore the real-life Willy Wonka's Chocolate factory, learn the art of chocolate making, and design your custom-made chocolate bar in Chocoversum. Try the local delicacies of Hamburg at the Sunday Fischmarkt. The herring and fish sandwich here is exquisite. 
5. Dortmund
Whether you are a football fanatic wanting to visit one of the largest stadiums in Europe or a history buff wishing to stroll through an ancient city, you can get the best of both worlds in your weekend escape to Dortmund, Germany. 
Dortmund is popular for its several wooded open spaces and parks. You should visit Westfalen Park, the largest park in Dortmund. Here you can visit the Dortmund Zoo, Botanischer Garten, or ascend the Florianturm, the 212-meter Television Tower. While there, you should try out the revolving restaurant in the tower. 
Other than football and open parks, there is so much more to explore here in Dortmund. Take a stroll on the pedestrian-friendly streets of Dortmund and explore the medieval architecture of old buildings and churches. You will stumble upon 12th and 13th-century churches such as St. Reinold's and St. Mary's. 
If you are into vintage vehicles, check out the Local Transport Museum of Dortmund. Here you will find trams dating back to the early 1900s. Another museum you can check out is the Museum of Art and Culture which features 17-18th century Folk art, 19th-century music, gold coins, and other old artifacts. 
Best Day Trips to Visit Germany From Amsterdam
Don't have the time and energy to plan out a whole weekend trip? No problem, just hop on a train on Amsterdam Central and take a day trip to the nearest German city. Aachen and Dusseldorf are the two nearest German cities I recommend for a day trip from Amsterdam. 
1. Düsseldorf
Düsseldorf is only 224 kilometers (139 miles) from Amsterdam, and it will take you only 2 hours and 11 minutes by train to reach there. It is closer to Amsterdam than Cologne, making it a shorter journey from Amsterdam. The short journey there makes it ideal for a day trip.
You will discover that most of the tourist attractions of Düsseldorf are found along the Old Town or Alstadt road. Located on the East of the Rhine, the Rhine is surrounded by the Schloss Benrath palace and St. Lambertus Church, and many other medieval buildings.
Düsseldorf is not only a place for the history buff but also for the shopaholic. It is the fashion capital of Germany. If you are looking for posh designer shops, you will have no shortage. 
Again if you are looking for a fun night out, the central district of Düsseldorf offers a variety of pubs to choose from. It is ironically nicknamed the oldest and longest bar in the world. Here, you will find over 300 bars and restaurants concentrated in small areas.
2. Aachen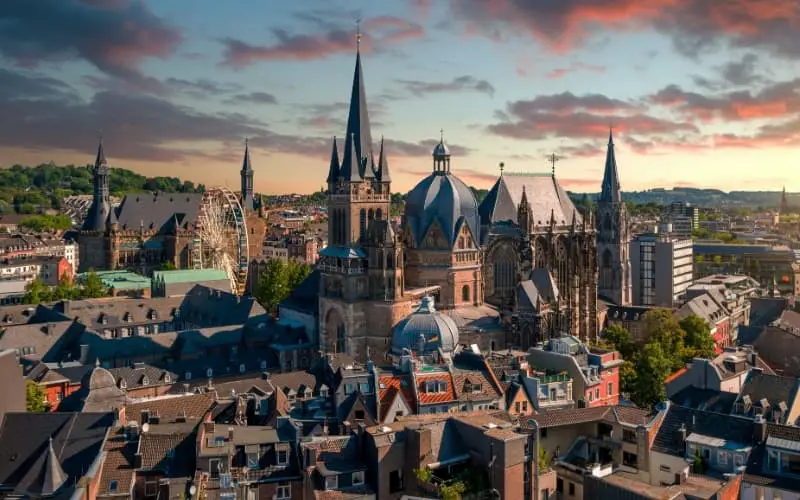 If you are looking for a relaxing day trip abroad, Aachen is for you. This city in West Germany is 228 kilometers (141 miles) from Amsterdam, and it takes about 3 hours by train to reach Aachen from Amsterdam.
The city began as a thermal spa for the Romans, moving on to becoming a capital under the Roman emperor Charlemagne. Today, the thermal spas in Aachen still boast their past glory. Relax and soak in Carolus Thermen spa.  
With the Aachen special cookies printed in hand, you can stroll around the Old Town, discovering all that the city has to offer. Somewhere in the city square, you will find items from an archaeological excavation housed inside a free showcase building. Some of these items date back to the Neolithic age.
The main tourist attraction of this West German city is the Aachen Cathedral which dates back to 813 AD. Being one of the oldest and most stunning Cathedrals in Europe, it is a UNESCO World Heritage Site. Inside, you can view the grave of Charlemagne, the octagonal-shaped Palatine Chapel, and the stained glass dome. 
After visiting the Cathedral, you can check out the medieval Gothic-styled City hall. Then end your day trip with local beer from the cozy café beside the City Hall.
How to Get to Germany from Amsterdam?
You can travel comfortably and conveniently to Germany from Amsterdam via train, bus, car, and plane. If you take the train, you can reach most of the nearby German cities within 4 hours. 
Traveling by bus to nearby German cities is the most affordable option. But traveling by train or plane is much more comfortable and time-saving.
Ticket prices fluctuate enormously and are affected by various factors. For example, prices differ per provider, but the travel period also influences ticket prices. It is therefore advisable to look for tickets in advance, that way they are often a lot cheaper.
Conclusion
As mentioned, you can often visit beautiful places close to home. This certainly applies to people from the Netherlands or tourists staying in the Netherlands.
It is very easy to discover parts of Europe from the Netherlands relatively quickly and cheaply. Germany is therefore extremely suitable to visit from the Netherlands. It is close by, there are beautiful cities, and you still get to know new cultures.
Hopefully, this article, "Best places to visit in Germany from Amsterdam," has helped you to decide which German city you will be visiting next from the Netherlands.