Google Pay has become one of the most popular names in terms of online payment systems. It has been available in many countries of the world including the USA, UK, India, Portugal, Germany, Japan, Austria, France, Switzerland, and Australia. But "is Google pay available in the Netherlands?"
Yes, Google pay is now available in the Netherlands. On 17th November 2020, Google launched its own Android-based digital wallet in the Netherlands. It is now supported by the popular Bunq, Revolt, and N26, which used to only support apple pay before.
In this article, I will talk about how you can use Google pay in the Netherlands. Then, I will discuss how the contactless card payment delayed Google Pay's arrival, discuss what the other mobile payment options there are, and what payment method is most popular in the Netherlands. So, keep reading to find out more.
How to Use Google Pay In The Netherlands?
Google Pay's arrival is great news for travelers looking to use their Google Pay app in the Netherlands. Many natives have also been looking forward to its arrival as well.
Now, all you have to do is set it up with your favorite online bank. Currently, N26, Bunq, and Revolt support Google Pay integration. Here's how you can do it.
Open Play Store from your device and download Google Pay.
Open your online banking app.
In your banking app, search for the option "Add To Google Pay."
Then you will have to go through a registration process.
Finally, your online banking app will now support Google Pay.
Note: MasterCard and Visa Cards are still not supported by Google Pay in the Netherlands.
Why Google Pay Didn't Take Off Earlier in The Netherlands
Google Pay is a popular online payment system in countries such as the USA, UK, Canada, Australia, India, and many more. Google Pay has the option of a contactless payment system that enables a user to pay instantly without any physical contact.
Interestingly, it only recently reached the Netherlands. Everybody knows the Netherlands has a sophisticated digital banking system. Now, so why did Google Pay take so much time?
It is mainly because Dutch banks already offer digital services like contactless payment systems and online payments. So, Google Pay already had some tough competition to beat before arriving here.
There is not much information regarding why Google Pay did not take off in the Netherlands earlier. But it can be guessed that since the Dutch already had their own advanced online and mobile payment systems, there was no space for Google to make a profit in the Dutch market.
Thankfully it has arrived now. And it is definitely a good thing, especially for people new to the Netherlands who might have trouble using the local banking apps.
How Contactless Card Payment Works in The Netherlands?
A contactless payment system is a secure money transfer system that uses radio frequency identification (RFID) and near-field communication (NFC) technologies for money transactions.
With the help of this system, users can purchase services and products. Contactless payment is used through credit, debit, smart cards, and other smart devices or mobiles.  
The system changed the banking system of the Netherlands so much that nearly 90% of the Dutch people use online banking and contactless payment these days.
In the beginning, it was mainly used by young people, but as it has become increasingly simple, older people have also started using it more.
The elders find the online banking system and contactless card payment easier than any other method of payment because it is easier and faster. 
How It Works
In the Netherlands, every bank has the technology to conduct business through online banking and contactless payments. Most shops all over the country also support these technologies.
This system helps both customers and retailers. It makes buying and selling more convenient for the parties.
The consumer can go to shops that support a contactless payment system and buy goods without exchanging any cash. The consumers only have to show or swipe the contactless card or smartphone.
A user has to hold the card or device in front of a device so that it can read the card. 
When the card reader of the shop reads the necessary information from the contactless card, it sends a signal to the bank account of the users. The bank approves the card and sends a signal back to the card reader.
The card reader gives a beep showing a green signal. After this process, the payment transfers to the store account. 
It takes only a few seconds to purchase products with this system, and there is no hustle of carrying cash and handing money to the cashier. As a result, it has become quite useful in the modern age. Since it takes a little time, people can also avoid standing in line for a long time.
Besides, the shops will also have fewer people lining up in front of their cash counters.  
The users can shop or buy up to €25 ($29) through a contactless card payment system without giving any personal identification number or Pin Number. However, if a user buys more than €25 ($29), he or she has to provide the PIN. 
As wireless technology is becoming more advanced these days, the contactless payment system has also become quite simple with the use of smartphones.
People are now connecting their credit and debit cards to their smart mobile phones and other devices like fitness trackers and smartwatches. 
They can easily download the mobile app of the banks and link their accounts with the mobile app. This way, people do not need to carry any extra cards with them. 
By connecting the system of contactless payment with smart devices, banks have made a lot of daily activities easier for the Dutch people.
By 2020, it has become mandatory for all terminal services to accept payment through contactless payment systems.  
What Are the Mobile Banking Options in The Netherlands?
More than half of the Dutch population uses mobile banking nowadays. Again, most of the users are adults.  
Like the contactless payment system, mobile banking technology uses QR codes and near-field communication (NFC) systems to make payments in shops, supermarkets, and other places. The Dutch people are paying bills and sending money through the mobile banking system more often. 
Most Dutch banks now have the benefits of online banking and mobile banking systems. Some of these banks are ING, ABN-AMRO, and Rabobank.
Besides, new online banks are emerging in the market, which are only for online and mobile banking, such as Bunq, Revolut, N26, VIABUY, and Openbank.
Among these, Bunq has started to support Google Pay as a viable payment option. Only soon to be followed by Revolt and N26.
Also bank users use mobile payment apps as well. The most popular in the Netherlands now are the iDeal app and the OK app. Both of these apps are available on Apple and Android devices. 
Using Google Pay on your mobile phone: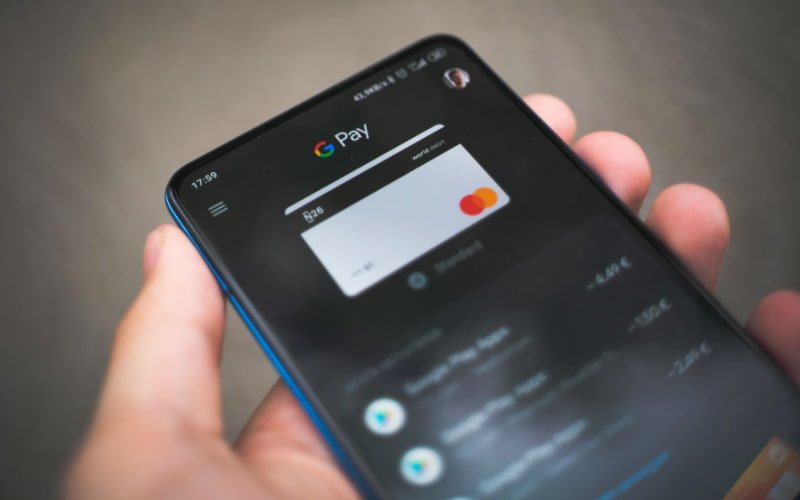 Which Payment Methods are Most Popular in The Netherlands?
So, what is the favorite payment method of people living in the Netherlands?
According to a recent survey, about 50% of people use debit cards as a payment method. They feel safer using debit cards than the electrical system.
Then, around 25% of the Dutch use cash as their preferred payment system, and finally, 25% of the Dutch prefer the mobile payment system. 
Although the percentage is less than debit card users, remember that the mobile banking system is a recent phenomenon. Compared to when the two systems were introduced to the people, the mobile payment method is increasing rapidly.
Many people in the Netherlands are using both debit cards and mobile payment systems based on their needs.
The reason behind this rise, as mentioned before, is the ability to connect the system with smart devices and smartphones. Moreover, shops and stores are becoming device friendly as well.
They are creating more options for consumers to pay for their services. Thus, the Dutch are leaning toward methods that are faster and easier. 
Only time will tell how Google Pay will catch on in the Dutch market. It has some fierce competition from the local payment methods. So, surely this will be tough.
But if they can do it, it wouldn't be the first time for Google to overcome an adverse situation.
Conclusion
So, Is Google pay available in the Netherlands? As you've learned by now, Google Pay is fully supported by some of the Netherlands' popular online banking apps. They were late, but better late than never. I do hope it picks up in the Dutch market as it can offer a lot of conveniences, especially for new foreigners in the region.