The Netherlands is considered to be the home of one of the largest and busiest ports in the world, the port of Rotterdam. So, it's pretty obvious plenty of mails arrive and leaves from here. It is a little-known fact that it takes a long time for a mail from the Netherlands to arrive in the USA. But what are the reasons? Firstly, let's get an estimate of how long it actually takes.
How long does mail take from Netherlands to USA? It would take from about 8 days up to 53 days for mail to arrive from The Netherlands in the US. It depends on the type of service that you use for sending your mail. Airmail generally arrives in the US faster than mail by ship.
We shouldn't be wasting any more time so let's jump into the main question: how long does mail take from the Netherlands to the USA?
How Long Does It Actually Take for Deliveries to Arrive?
You'd need to cross the North Atlantic Ocean and travel a total of 7501 kilometers (4.661 miles) to reach the United States from the Netherlands. If you're taking a commercial flight, it'd probably take you around 9 hours and 51 minutes.
So, it's no wonder that it'll take a while for shipments to arrive given the fact that they need to cross oceans in order to reach their destination.
As mentioned before, the Netherlands is the home to the largest and busiest ports which is the Rotterdam port. So most of the mail either arrives here or at the port of Amsterdam. It usually takes around 8 to 53 days. Yeah, that's a long stretch. It mostly depends on the departure time but you get the idea.
Generally speaking, the time of shipment really depends on what sort of shipping you pay for. Pay for expensive shipping service and it takes less time for the mail to arrive. Pay for standard shipping and it takes a lot longer for your mail to arrive.
For example, if you go to the DHL or UPS website and use their calculator, you'll see that they have a multitude of options for you to choose from. All differing in price and shipment time.
The method of shipment also plays a part in the shipping time. Shipment through the air will logically take less time than shipment over the sea. So, it's really hard to pinpoint an exact time.
General Reason for Your Mail Not Being on Time
In all forms of delivery, there are bound to be some delays here and there. It won't always matter whether the service you choose is for the same day delivery or the express delivery. You will mostly never get an exact time from the courier service. They will just provide you with an estimate.
Even if you're not following the procedure, you'll get a rough estimate of when to expect your mail. But even after all that estimation, the company might still fail to deliver your package on time. So what could be the reason?
Mailman delivering the mail on your doorstep: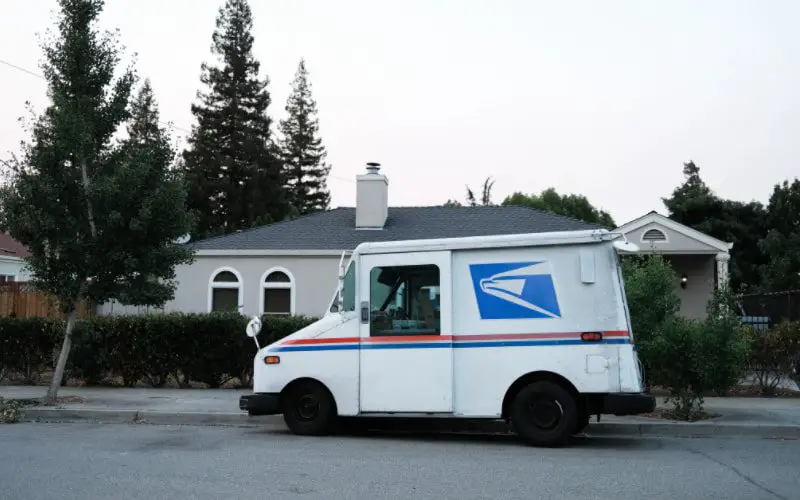 Weather Conditions:
There are times when unforeseen circumstances will hamper our deliveries. Weather changes will disrupt traffic and the time it will take to deliver your mail. For example, a massive storm will make it very difficult for the mailman to navigate through the road, causing your delivery to not be on time.
Events and roadworks:
While the mailman is there to deliver your mail, they might have to come face to face with a roadblock because of an event that's being held. Or the road they are taking is being under construction. So what do you do when you're faced with an event or roadblock in front of your car? You wait or take another turn.
During events, major roads are blocked so it'll be extremely difficult for the rider and they'll have to adjust their usual route which is causing the parcel to be very late.
Technical errors:
With all forms of work being shifted online, courier services are no exception. But with technical advancements come technical problems. Even though it might not happen all the time, when it does happen, no progress will be updated.
Communications will be delayed and the shipment status will not be updated promptly. So, you'll not be able to see the real-time location or have an idea of when your shipment may arrive.
Which port the shipment comes from:
Where it comes down to shipping via the ocean where the shipment starts and where it is received can play a big part in the shipment time. Obviously busier ports may take more time in processing your mail than a less busy one. Also, the same can happen if there's not enough shipment. It's really not that simple.
Here's some basic info on the two largest ports in The Netherlands:
Rotterdam Port:
Rotterdam has the biggest port in not just in the Netherlands, but in Europe. The port handled some 14.5 million TEUs in 2018. Once reigned as the world's largest port for over four decades.
Amsterdam Port:
The port of Amsterdam is the second largest port in the Netherlands and 38th in the world. It handles over 45,000 TEUs annually
Things to Keep in Mind When Mailing From the Netherlands to USA
There are a few things that we should always keep in mind while mailing from the Netherlands to the USA.
To be as specific as possible, the minimum mailing time is still about 8 days. But that doesn't mean you'll get the mail in 8 days. That's just the least amount of days that it will take. As mentioned before, it could take from 8 to 53 days depending on your departure time.
We've previously mentioned the geographical conditions and why it might take some time for your mail to arrive given the fact that it's being shipped across the North Atlantic Ocean. The USA isn't a small country. So, based on where the mail is shipped the mail could take some time to arrive at your doorstep.
If you think that there might be some complications, it's best to add a few days to your shipment just in case. It's always to be better prepared for a shipment if it's something that needs to be urgently delivered.
If you have fragile items make sure you wrap them well in foam or bubble wrap. Even if your shipment arrives in time there is no point if it doesn't come in one piece. Buy a good properly sized box and use as much foam and bubble wrap you can. Seal the box properly as well.
Which Company Should You Use For Shipment?
When you're deciding to mail and send shipments to the USA from the Netherlands, it's advised that you choose the best transport companies in the Netherlands. Netherland has a ton of local companies that offer shipment to the US.
These companies usually offer cheaper shipments than international shipping companies like DHL, UPS, and FedEx. But these are the companies which will give you the previously mentioned 8 days shipment if you can afford them.
Sure, their costs are high but their services can become a necessity when you need to ship something important as fast as possible.
Conclusion
It can be concluded that mail takes a while to arrive from the Netherlands to the USA; given the geographical location and other complications related to it. So it's always best to prepare beforehand and add a buffer if you're expecting something to be urgently delivered.
All in all, hope this article was helpful in providing adequate knowledge as to how long does it take for mail to arrive from the Netherlands to the USA.