Amsterdam, fondly known as the "Venice of the North," boasts an intricate network of picturesque canals that attract visitors from around the world. These waterways form an essential component of the city's unique charm and contribute to its rich history, dating back to the 17th century.
As you navigate these stunning canals, one question may arise: how long are they?
The canals of Amsterdam have a total combined length of approximately 75 kilometers (46 miles), weaving their way around the city and creating a beautiful urban landscape that is both functional and awe-inspiring. Among the 165 canals, the longest is the Singelgracht, which stretches for 6.3 kilometers (2.2 miles).
These canals form concentric half-circles, with some being primarily residential, like the Herengracht, Prinsengracht, and Keizersgracht.
The canals of Amsterdam not only serve as picturesque waterways for tourists to explore, but they also represent an essential part of the city's infrastructure. This vast network of canals, bridges, and accompanying historical buildings provides a stunning backdrop for life in Amsterdam and serves as a reminder of the city's monumental expansion project that took 50 years to complete in the 17th century.
Total Length of Amsterdam's Canals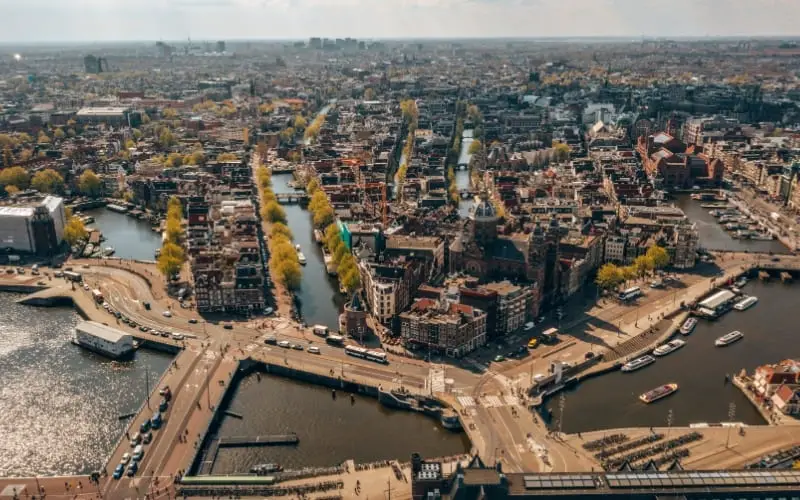 Amsterdam, sometimes referred to as the "Venice of the North," is famous for its extensive network of canals. The city boasts a total of 165 canals that are integral to its charm and structure.
The combined length of all these canals is quite remarkable. The total length of Amsterdam's canals reaches an impressive 75 kilometers (46 miles). This intricate network of waterways crisscrosses the city and provides a picturesque setting for both residents and visitors alike.
Amsterdam's canals also feature numerous bridges that facilitate crossing the waterways for daily commutes and leisurely strolls. In fact, there are 1,916 numbered bridges, 80 of which are located within the city's historic Canal Belt.
The canals vary in depth, with an average depth of 2.6 meters and the lowest point at 4.5 meters below sea level. To maintain the city's stability, over 11 million wooden poles support the buildings along the canals.
Notable Canals in Amsterdam
The city of Amsterdam boasts an impressive canal system, with a total length of 75 kilometers (46 miles) across 165 canals. This section will focus on four of the most famous canals: Herengracht, Keizersgracht, Prinsengracht, and Singel.
Herengracht: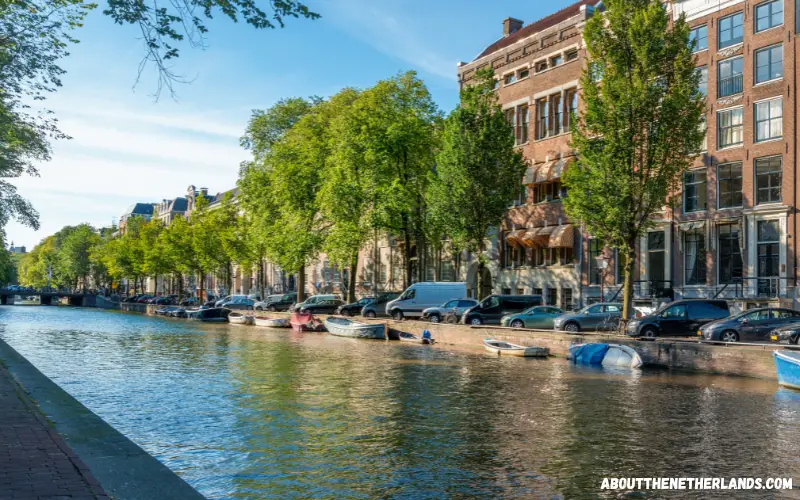 The Herengracht, or "Gentlemen's Canal," is one of Amsterdam's main residential canals. Along with Keizersgracht and Prinsengracht, it forms the famous "grachtengordel," a series of concentric half-circles of canals constructed in the 17th century.
The Herengracht is known for its historic canal houses, many of which were built by wealthy merchants and traders during the Dutch Golden Age.
Keizersgracht: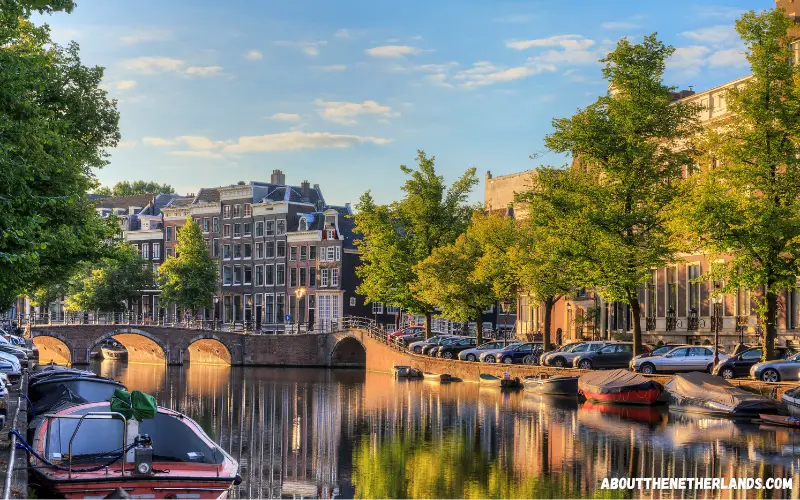 Prinsengracht: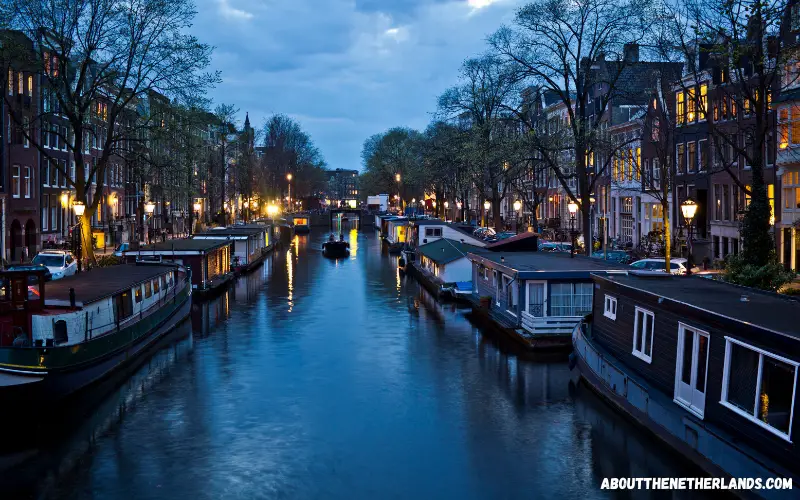 The canal was built in the early 17th century as part of an expansion project that took 50 years to complete and quadrupled the size of the city. It is named after the Prince of Orange. The Prinsengracht is known for its historic canal houses, houseboats, museums, churches, and hidden cafes.
Singel: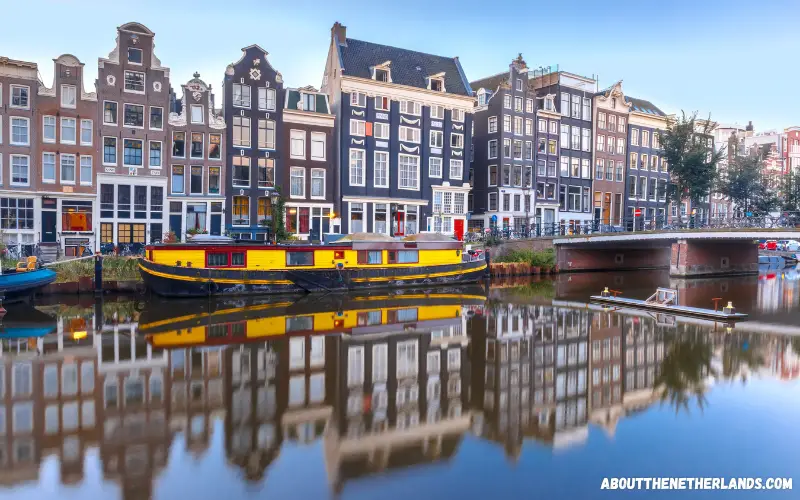 The Singel is a historic canal that once served as a moat, encircling the medieval city of Amsterdam from 1480 until 1585. Not to be confused with the Singelgracht, which at 6.3 kilometers (2.2 miles) long, is known as the longest canal in Amsterdam.
Canal Construction and Development
Historical background:
The canals of Amsterdam date back to the late 16th and early 17th centuries, during the Dutch Golden Age. They were designed as part of a project to develop a new port city and were instrumental in fostering trade and economic growth.
Amsterdam's 17th Century canal ring area inside the Singelgracht' was added to UNESCO's World Heritage List in August 2010.
The Grachtengordel, or canal ring, consists of three main canals - Herengracht, Prinsengracht, and Keizersgracht. These canals were built during the Dutch Golden Age and contributed to the network of nearly 62 miles of canals, 90 islands, and 1,500 bridges found in Amsterdam.
Expanding the city:
Amsterdam's 17th-century city planners designed a system of canals that extended in concentric half-circle rings around the city. This allowed for efficient transportation and defense, as well as beautiful waterfront properties for the city's prosperous merchants.
The 165 canals in Amsterdam span a total length of 75 kilometers (46 miles), with the longest canal being the Singelgracht, measuring 6.3 kilometers (2.2 miles).
The maintenance of Amsterdam's canals is an ongoing challenge, with extensive efforts being made to shore up the canal walls and preserve the city's iconic infrastructure. Recent projects have focused on renovating bridges and quay walls, as well as modernizing the city's water management system.
Canals as a Tourist Attraction
Amsterdam's canals are a major tourist attraction, offering picturesque views and unique experiences for visitors. Two popular ways to enjoy the canals are through boat tours and cruises, as well as participating in noteworthy events held around the canals.
Boat tours and cruises:
One of the best ways to explore the beautiful canals is by taking a boat tour or cruise. These trips allow tourists to cover a large part of the UNESCO-protected canal ring and learn interesting facts about the city's history and architecture.
Many tours operate throughout the day and night, providing visitors with various options to suit their schedules.
Noteworthy events:
Amsterdam's canals host several events throughout the year that attract both tourists and locals. One can witness celebrations, parades, and various performances taking place along these waterways, providing a unique and unforgettable experience.
Examples of such events include:
King's Day: This annual celebration of the Dutch king's birthday on April 27 involves festive decorations, live music, and dancing along the canals.
Amsterdam Light Festival: Running from December to January, this festival features illuminated artworks and installations on and around the canals, creating a magical atmosphere for spectators.
Pride Canal Parade: As part of Amsterdam's Pride celebrations in August, a lively and colorful parade of boats travels along the canals, with participants dressed in extravagant costumes.
In summary, the canals in Amsterdam not only serve as a network of waterways but also as a backdrop for various enriching experiences, allowing tourists to connect with the city's history, culture, and local celebrations.
Conclusion
Amsterdam is home to an impressive network of canals totaling a length of 75 kilometers (46 miles) across 165 canals.
This remarkable system showcases the city's rich history and dedication to efficient water transportation, earning it the nickname "Venice of the North."
Amsterdam's longest canal is the Singelgracht, with a length of 6.3 kilometers (2.2 miles).
These canals have been an integral part of the city's development, with a significant expansion project in the 17th century that led to the growth of Amsterdam to four times its original size.
Today, these beautiful canals not only serve as an essential part of Amsterdam's urban landscape but also as a testament to the city's innovative engineering and forward-thinking approach to urban planning.
Would you like to learn more about the Amsterdam canals? Then make sure to check my article with facts about the Amsterdam canals!