Berlin and Amsterdam are both 'must visit' cities on anyone's Euro trip. But due to time and travel constraints, you may have to choose between the two. So if that's the case for you, this blog will definitely help you to make the best choice.
Which is better Berlin or Amsterdam? Amsterdam is the best choice if you are short on time or you are visiting with children or aged parents. To see the whole of Berlin you need at least 3 days to visit. Berlin is a great city if you are into nightlife and cold war history. If you are on a budget, Berlin is the better choice for you.
Of course, many other factors will come into play when it comes to choosing which place to visit first. Hence, I highly recommend you keep reading if you are still unsure about whether to visit Berlin or Amsterdam first. You will find a brief overview of both cities in this article and it may help you find out which city you should visit first.
Which is Better: Berlin or Amsterdam?
Berlin and Amsterdam are both great cities to visit. Both of them are historically, culturally rich, and offer ample attractions. Which of the two is better for you depends on who you are traveling with, your age, budget, preferences, and how much time you can spare in each city.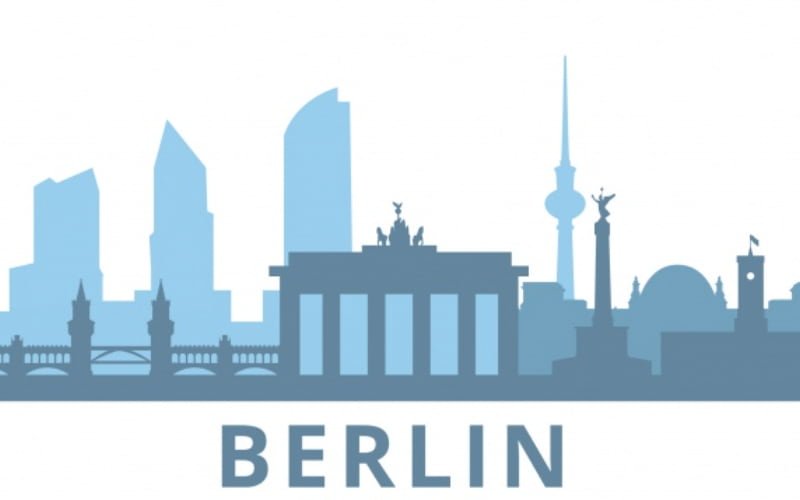 You can spend months in Berlin and still not explore all of it. The city always has something to offer. A city lover will appreciate the constant buzz of Berlin in the summer. 
Amsterdam, the capital of the Netherlands on the other hand can be explored in two days. You can walk or cycle all over the city and soak in all it has to offer. If you go on a three-day trip, you can also take a tour of one of the towns outside the city. So, if you are under a time constraint and you are looking for a relaxing weekend, famous Amsterdam is a good choice.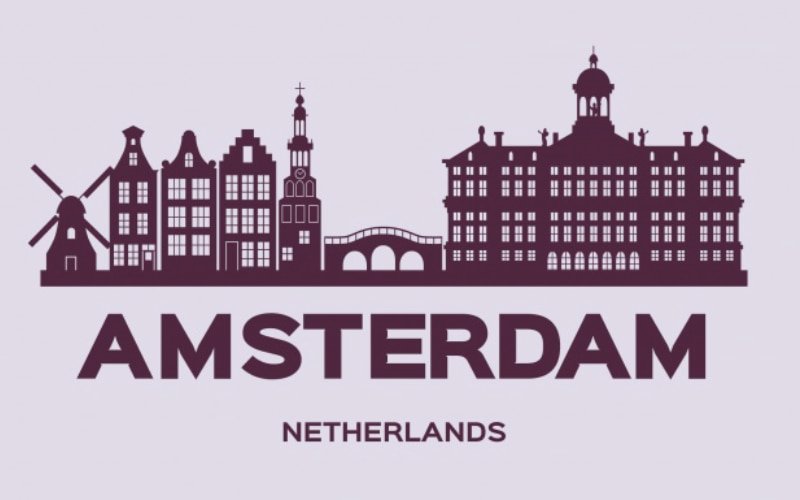 You cannot walk or cycle all of Berlin like with Amsterdam, but the trams, U-Bahn, trains, and buses will take you all over the city with ease. Plus, Berlin is Uber-friendly too. So, transportation will not be a problem.
Berlin can be covered in three days too if you want to visit the popular tourist spots. Most of the iconic tourist spots are woven together in the streets of Mitte, hip East Central, and Wedding. 
If you have a week's worth of time on your hands, why not visit both Berlin and Amsterdam? Because the Netherlands is a train ride away from Germany. 
Amsterdam is more family-friendly than Berlin. If you are going on a trip with your aged parents or children, they will enjoy boat rides on the canals. But Berlin also offers family-friendly experiences, but Amsterdam may be more relaxing. 
Both Amsterdam and Berlin are great for solo trips. But if you are into the city nightlife, Berlin has more to offer. If you are on a budget, Berlin will be the better choice for you. As the food is less expensive than in Amsterdam, as well as local transportation and accommodation. Plus, the metropolitan city can offer cuisine from all over the world. 
Top 5 Tourist Places in Berlin 
1. Brandenburg Gate 
When in Berlin, you cannot miss the Brandenburg Gate. It is a Neoclassical monument built-in 1788, for King Frederick Wilhelm II.
 It is the most famous and historically symbolic monument in Berlin. It is one of the top free places you can visit in Berlin.
During the Cold War, it was a symbol of divided Germany and today it is a symbol of unity. In 1987, it was the backdrop of US President Reagan's historical appeal to the Former President of Russia, Mikhail Gorbachev to demolish the Berlin wall. 
Brandenburg Gate by night: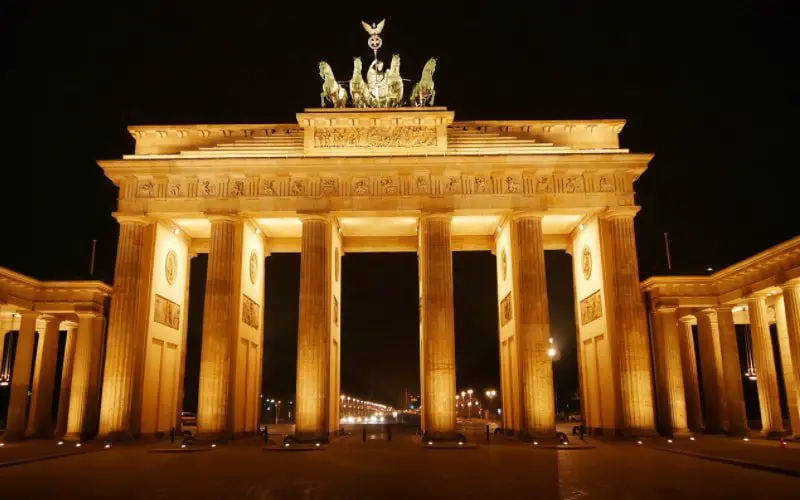 2. Reichstag 
The Reichstag is the parliament of the reunified Germany. In the past, it was the Imperial Diet of the German empire and later it was burned down in 1933. 
After the Cold War, it was reconstructed and the dome was a welcome new addition. The replacement dome made of glass offers a superb view of the city. The transparent dome also symbolizes the transparency of the German Parliament. 
If you want to visit the Reichstag, you will need to book a ticket in advance.  
3. Berlin Television Tower 
You cannot miss the third tallest freestanding tower in Europe. You can see the Fernsehturm or the Berlin Television tower from all corners of the city.
The tower is located in the former district of East Berlin. It was built to mark the spirit of communism. But 50 years later, today it is the symbol of Germany's reunification. 
 On top of the tower, you will get a spectacular panoramic view of the whole city. Catch the setting sun's reflection on the city from the tower. 
4. Museum Island 
Most of the renowned museums in Europe are in the Museum Island of Berlin. It is an island on a canal between the Spree River and Kupfergraben. It is declared as a World Heritage site by UNESCO.
You will find the Altes Museum, Neues Museum, Alter Nationalgalerie, Bode Museum, and the Pergamon here. The most famous museum in this city is the Pergamon. It is home to an Islamic Museum and Ishtar Gate. 
5. Berlin East Side Gallery 
The East Side Gallery of Berlin is an open-air art exhibition. The art is on the remains of the demolished Berlin wall. You will find 105 paintings of artists all over the world on the wall. 
You can travel and learn about the history of Berlin by walking past this 1316-meter-long gallery. Get a taste of freedom and travel through time with the paintings of East Side Gallery. 
Tour Guide for Berlin 
You will not run out of things to do and places to visit in Berlin. But I will take you through the main tourist attractions of Berlin. 
A history buff will love all the historical attractions all over the city. From the Brandenburg Gate, Glass Dome of Reichstag to the Berlin Cathedral, and Charlottenburg Palace, you will not fall short of history. From 18th century neoclassical monuments to 19th-century architecture, you will find it all. 
If you are into the history of the cold war, visiting the Berlin East Side Gallery and Holocaust memorial is a must. You should take photos at Checkpoint Charlie, a famous crossing point between East and West Germany. 
Checkpoint Charlie in Berlin: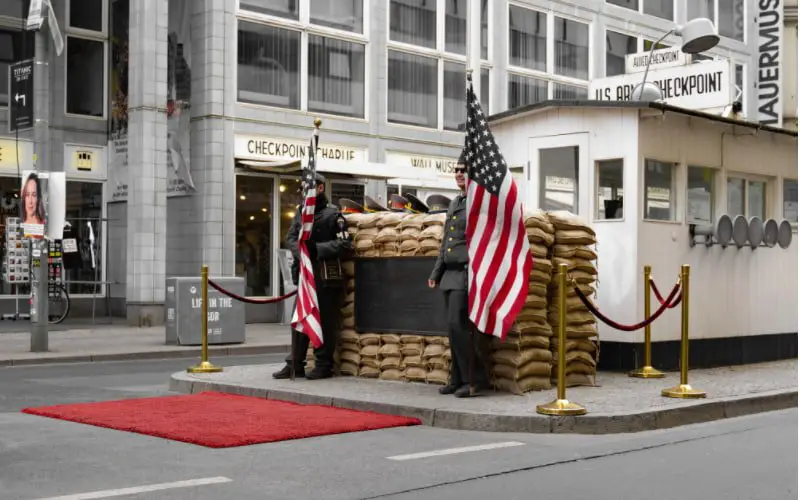 If you have an eye for different cultures of the world, you should visit Museum Island on the river Spree. You will find a few of the best museums in the world here containing items over 6000 years old. 
Enjoy a spectacular sunset and a panoramic view of the city from the top of the Berlin Television Tower. Before that, you can walk around the blocks of the Mitte, explore the boutiques in the area, and enjoy brunch in the courtyards of Hackescher Höfe.
You can spend a relaxing day at Tiergarten Park. You can have a picnic, a stroll through nature, or a boat ride here. The zoo is nearby as well if you would like to check out some animals. 
When to Visit Berlin?
The best time to visit Berlin is during spring and summer no question. The Volkspark, Maur park, and Tiergarten are at its most vibrant green during the spring. If you like cooler temperatures, you should visit in May or autumn. 
The city comes out of hibernation and the people are buzzing. The street-side coffee shops and diners of Prenzlauer Park and Kreuzberg are full. Long lunches and jazz evenings filled with cold German beer will keep you entertained.
There is not much to do outside in Berlin during winter, since it is freezing. But you will find the Christmas markets at Alexanderplatz and Charlottenburg Palace enchanting. Plus, Berlin offers various indoor attractions you can explore.
Where to Stay in Berlin?
You will find various hotels and hostels in the capital of Germany. From luxury to budget-friendly hotels, you will have your pick. Here is a list of a few of the hotels.
· Hotel Adlon Kempinski Berlin
· Berlin Marriott Hotel
· Meliá Berlin
· Mondrian Suites Berlin
· Art'otel Berlin mitte
· Steigenberger Hotel am Kanzleramt
· The Circus Hostel
· Singer109 Hotel & Hostel
The Adlon Kempinski Hotel is the best luxury hotel which is situated in the center of Berlin City. Meliá Berlin and Berlin Marriot are also great luxury hotels. The Brandenburg Gate is just a 10-minute walk from the Marriott hotel. 
The Art'otel Berlin, Meliá Berlin, and Steigenberger Hotel am Kanzleramt are great middle price range hotels. The location of the Steigenberger Hotel is convenient as it is near to the main station and the Brandenburg gate. 
The Circus Hostel and Singer109 Hotel & Hostel are great budget hostels you can stay at if you are on a solo trip. The Circus Hotel is right in the Centre of the City and offers rental cycle services.
Top 5 Tourist Places in Amsterdam
1. Rijksmuseum 
If you are an art fanatic, the Rijksmuseum is a must-visit. It is the National Museum of Netherlands and houses a huge collection of rare ancient artifacts and paintings. Some of the paintings are 8000 years old. 
If you are a bibliophile, you will also love visiting this museum. Because it is home to 35000 old books and manuscripts. It also houses a collection of medieval sculptors and traditional handicrafts. 
Rijksmuseum in Amsterdam: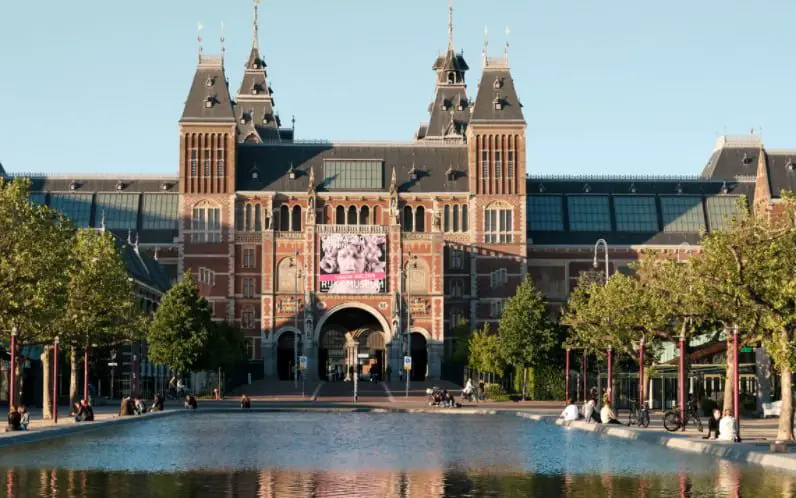 2. The Royal Palace 
The Royal Palace of Amsterdam was built in 1648. Its classical architecture is inspired by Ancient Rome.
The ceilings of the Palace are painted by Rembrandt's pupils, Govert Flinck and Ferdinand Bol. The Council hall is the most beautiful and largest room in the Palace. It is one of Europe's best staterooms. 
3. Dam Square 
Dam Square is most popular with tourists. Because it is home to various tourist attractions. From the Royal Palace, Nieuwe Kerk, Madame Tussauds Wax Museum to the National Memorial Statue. 
You can also find various cafes, restaurants, souvenir shops lined on this square. You will also be able to find plenty to do here, from shopping to riding Ferris wheels and listening to street performers. 
4. Van Gogh Museum 
One of the country's top attractions is the Museum dedicated to the most revered painter of the Netherlands, Van Gogh. Established in 1972, this museum exhibits the exceptional artistry of the artist. 
You will find 200 paintings, 500 sketches, and 700 letters of Van Gogh in this museum. Moreover, you will see a colorful multimedia presentation of Van Gogh's life.  
5. Anne Frank's House 
Even if you haven't read The Diary of a Young Girl, you may know about Anne Frank, the most famous Holocaust victim in history. You can visit Anne Frank's House, which was her hideout during WWII. 
The house hasn't changed much from what it was during Anne Frank's time. You will find her original red chequered diary in this museum. It serves as a heart-rending monument to the tragic history of the Holocaust. 
Anne Frank in 1935: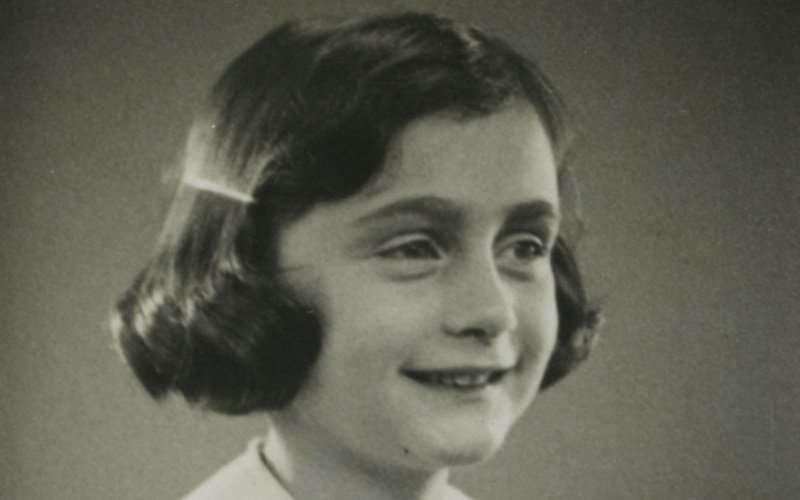 Tour Guide for Amsterdam 
Amsterdam is known for its historical gems, world-class museums, and incredible culture. You will love stopping here on a European city break. 
First, you should head to the Museum Quarter. Here you will find the best museums Amsterdam has to offer. Rijksmuseum, the National Museum of Netherlands is found here. It is home to various cultural antiquities, and paintings including Rembrandt's "The Night Watch". 
If you are a lover of "The Starry Night" you can visit the Van Gogh Museum in the Museum Quarter. You can also visit the Stedelijk Museum which is home to a huge collection of sculptures and paintings. 
Visit Amsterdam's most popular neighborhood, Jordaan. It is a mix and match of residential areas, boutiques, eateries, and live markets. You will love to take a stroll on the picturesque streets of Jordaan and view the multifarious attraction it has to offer. 
You will find the Anne Frank House in Jordaan. It is the actual hideout of Anne Frank. You will also find the Woonboot Museum, which is a floating museum, and the Amsterdam Cheese Museum here. 
The Royal Palace, National Monument, Rembrandt House Museum, the Oude Kerk, and Nieuwe Kerk are all places you must visit if you go to Amsterdam. Visit the Hortus Botanicus Amsterdam in the Spring to smell the flowers.
Taking a stroll down the ports and canals of Amsterdam is also a must. You cannot complete your tour to Amsterdam without soaking in the sun while on a boat ride on the canals.  
When is the Best Time to Visit Amsterdam?
The weather is usually pleasant in Amsterdam but it experiences variations in monthly rainfall. Winter is not a good time to visit Amsterdam because it rains the most during that time. October sees the most rainfall. 
The weather in Amsterdam is normally prone to changes. It can get super rainy and windy there. So you should go prepared for all the weather changes. Click here if you would like to know why The Netherlands is so windy.
Summer is the tourist season in Amsterdam. Although the temperature is not intolerable (71 F or 22 C), the canals, historical areas, and cafes will be filled with people. Hence, spring is the best time to visit the city.
March to April is a great time to visit Amsterdam as well. You can enjoy the King's Day Festival or watch the Tulips bloom in Keukenhof during spring.
Tourist boat on the Amsterdam canals: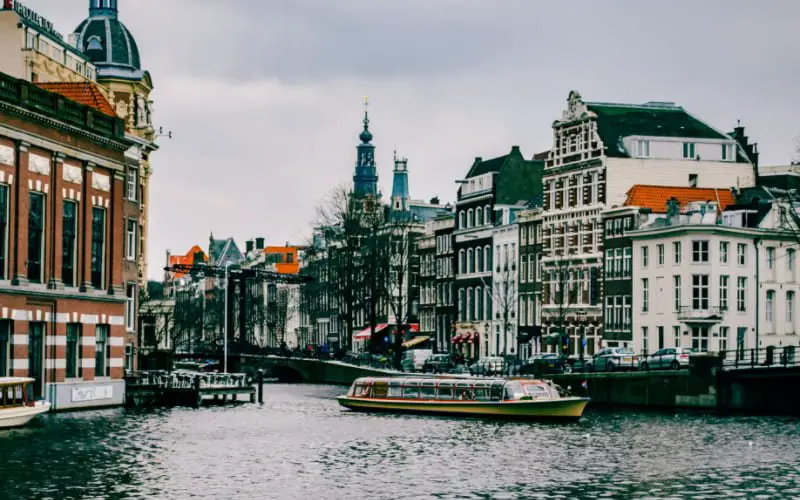 Where to Stay in Amsterdam?
You will have multiple accommodation options depending on your budget and situation in Amsterdam. Here are some of the hotels in Amsterdam. 
· NH Collection Amsterdam Grand Hotel Krasnapolsky
· Pulitzer Amsterdam 
· Mövenpick Hotel Amsterdam City Centre
· Holiday Inn Express Amsterdam Sloterdijk
· Hotel Vossius Vondelpark
· Blossoms City Hotel
· ClinkNoord
· The Bulldog Hotel and Hostel
The NH Collection Amsterdam Grand Hotel, Mövenpick Hotel, and Pulitzer are luxury hotels. The NH Collection Grand Hotel is situated in Dam Square, right opposite the Royal Palace. Moreover, it is close to most of the tourist attractions of Amsterdam. 
If you want to stay a bit away from the hustle and bustle of the city centre, you can opt for Holiday Inn Express. The Vossius Vondelpark and Blossoms City hotel are mid-range hotels. Hostels you can consider staying at on a solo trip are ClinkNoord and the Bulldog Hotel. 
Daily Travel Expenses in Amsterdam and Berlin
While choosing which city to visit first, the travel expense is a concern. But the differences in expenditures between Berlin and Amsterdam are slight. But a week in Berlin will cost a single person around €770 ($900) and a week in Amsterdam will cost around €856 ($1000).
Click here if you would like to know what is the best way to travel around in the Netherlands.
Accommodations in Berlin are also cheaper than in Amsterdam. When it comes to meals, here too, you can find more budget-friendly places in Berlin than Amsterdam. But of course, in the end, your budget will come down to how you spend your stay in either city. 
The table below presents the estimated expenditure of one person staying a day in Amsterdam and Berlin. 
Average costs for spending a day in Amsterdam or Berlin:
| | | |
| --- | --- | --- |
| Type | Amsterdam | Berlin |
| Local Transportation | €22 or $26 | €17 or $20 |
| Meals | €30 or $35 | €28 or $33 |
| Tourist Attractions  | €14 or $17 | €18 or $21 |
| Accommodation   | €68 or $80 | €54 or $64 |
| Average Daily Cost | €135 or $158 | €118 or $138 |
Click here if you would like to know why the Netherlands is so expensive to visit.
Conclusion 
You will surely love your visit to both Amsterdam and Berlin. Both cities have a great lot to offer. But your travel situation will dictate which is better for you to visit first. If you are going with your family or short on time, choose Amsterdam. If you want to enjoy the nightlife with friends or want a healthy dose of cold war history, go to Berlin. 
I hope this article helps you determine which is better Berlin or Amsterdam for you to visit. Thanks for stopping by and wish you a fantastic vacation. 
If you would like to get some information about other cities for your Euro trip, check our latest blog about: Brussels Or Amsterdam: Which Is Better?