Brussels and Amsterdam are both major cities people like to visit during their Euro trip. But due to time and travel constraints, people often cut one or the other from their travel plans. If that is your case, you may wonder, "Brussels or Amsterdam, which is better?"
Brussels or Amsterdam which is better? Brussels is the best destination if you are looking for more peace and quiet. Amsterdam is a better choice if you like nightlife. Brussels and Amsterdam both have many tourist attractions. Amsterdam has more art and Brussels more architecture. With a low budget, Brussels is the best choice.
Of course, many other factors will come into play when it comes to choosing which place to visit first. Hence, I highly recommend you to keep reading if you are still unsure about whether to visit Brussels or Amsterdam first. You will also find a brief overview of both cities in this article which may help you get rid of your dilemma.
Brussels or Amsterdam: Which is Better?
Most travelers choose Amsterdam, the capital of the Netherlands over Brussels, the Belgium capital. But the bottom line is that most travelers are not you.
Your travel experience will be unique just to you. Which city you would like to visit first depends on who you are traveling with, how you travel, your age, budget, preferences, and how much time you have.
Both Amsterdam and Brussels are small cities that can be explored in two to three days. So, traveling time constraint should not be a problem, if you are planning on visiting one city.
Again, since the two countries are so close, instead of choosing one city, why not visit both? With proper planning, you can visit both cities during your Euro trip.
But Amsterdam will feel like the larger city, with all its tourist spots. With vibrant neighborhoods like Jordaan, different sights, pubs, and various coffeeshops Amsterdam can be enchanting.
The whole city is a tourist haven, filled with lively tourists and friendly locals. But the downside of a tourist haven is that it can be exhausting for someone who wants to avoid crowds. The laid back Brussels might tempt them more than the buzzing Amsterdam.
Culturally, Brussels has a lot to offer too. The culture and architecture of Brussels are more distinct. Amsterdam is famous for its various museums, but the architecture and museums there are more cohesive.
If you are a budget traveler, you will prefer Brussels over Amsterdam. Both cities offer amazing hotel and flight deals for budget travelers, but accommodation, local transportation, and food costs are higher in Amsterdam.
The nightlife of Brussels is not as vibrant or wild as Amsterdam. But the nightlife there is still buzzing with night markets, pubs, bars, open-air cocktail parties, etc. So, both cities are great for solo trips but Amsterdam is better to visit with friends.
The Grand Place or Grote Markt in Brussels, Belgium: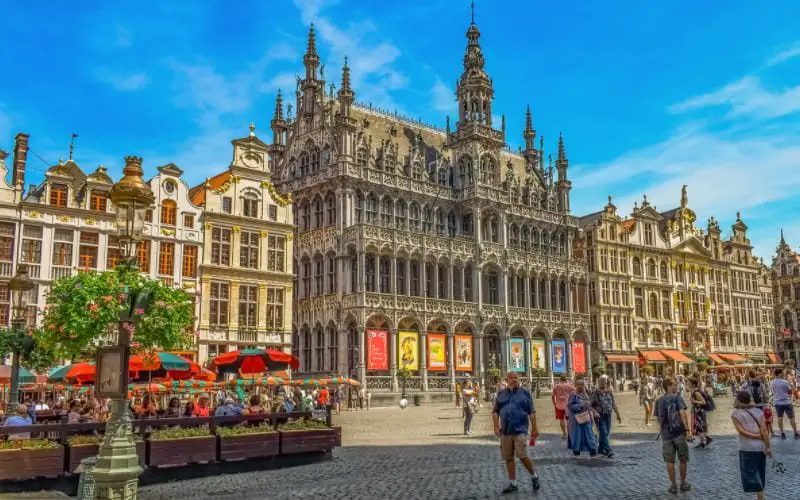 Top 5 Places to Visit in Brussels
1. Grote Markt
The Grote Markt or the Grand Place of Brussels is the best place to visit in Brussels for free. It is the central square of the city, so there is no chance you will miss it.
The charming cobble-stoned pavements and the gold-rimmed buildings of Grote Markt make it one of the most beautiful squares in Europe. The King's house and 15th-century town hall surround the Grote Markt.
The King's house also features the Brussels City Museum. UNESCO enlisted the Grote Markt of Brussels as a World Heritage site because of its grand architecture and rich history.
In winter, it hosts the Winter Wonders, a Christmas themed event. The whole square transforms into a vibrant winter wonderland featuring markets, parades, light shows, Ferris wheels, and Christmas lights.
2. The Museum of Cocoa and Chocolate
Your trip to Belgium will be incomplete if you do not try out the Belgian chocolate of the Museum of Cocoa and Chocolate in Brussels. You will not only be able to taste delicious chocolates from there but also observe the art of chocolate making.
The founder of this chocolate museum is Gabrielle Draps. She is the wife of the famous Belgian chocolatier and mastermind behind Godiva Chocolatier, Joseph Draps. With a small entry fee of €6,- ($7,14), you can visit this museum.
If you are a chocoholic, the Museum of Cocoa and Chocolate will be your very own chocolate haven. Here you will find, sculptors made of chocolate, fountains of molten chocolate, and free samples of chocolate.
3. Manneken Pis
Paris has the Eiffel tower as its national symbol and Brussels has the Manneken Pis. It is their most precious possession and you will be able to view it for free in central Brussels.
One of the most amusing tourist attractions of Brussels is Manneken Pis, which translates to the "Little Pissing Man." The Manneken Pis is in an easily accessible location, so even if you are in Brussels for a short while, you visit it.
The famous "Manneken Pis" in Brussels, Belgium: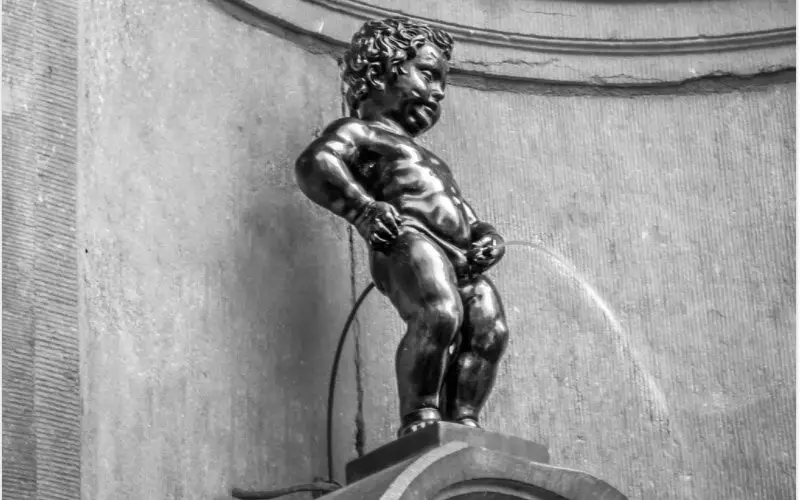 4. Museum of Musical Instruments
Take a musical journey through time in the Brussels Museum of Musical Instruments. Here you will get to explore over 8000 musical instruments of different periods.
The museum exhibits the musical collection of Belgium, European and Non-European musical instruments. The contribution of Brussel's to Belgian music's history with the creation of proto synthesizers and recorders are also illustrated in this museum.
Moreover, upon entering the museum you will receive infrared headphones. When you stand in front of an old instrument, you will be able to listen to it play on this headphone. Because of this you are not only viewing the medieval instruments but also having an auditory experience.
5. Galeries Royales Saint-Hubert
Royales Saint-Hubert is a shopping haven to a shopaholic. But whether you are a shopaholic or not, you will love to take a stroll through the galleries.
The arched windows of the shops offer a different window shopping experience. Even if you are not a fan of window shopping, your eyes will be transfixed by the ornate and rustic architecture of the gallery.
The Royales Saint-Hubert consists of three halls, each featuring spacious long halls and high ceilings. All in all the architecture and decoration of the galleries will transport you to the mid-19th century.
Tour Guide of Brussels
If you are short on time and find the Belgian street names confusing, this 2 day-tour guide will help you navigate through the streets of Brussels.
You can travel by foot, car, train, taxi, and bicycle all over Brussels, as it is a small city. On your first day in Brussels, if you are exhausted, you may take a stroll through the Grand Place and visit the Neoclassical town hall.
If you take the street Rue au Beurre, you will reach the Neoclassical building, the St. Nicholas Church. If you are hungry from all the walking, first take the Rue Chair et Pain and then the Rue des Bouchers. Here you will find various restaurants in the street.
In one day you can cover various tourist attractions if you take the metro. Take the metro to Schuman stop, which will lead you to the European Quarter. Here, you will discover the European Parliament and Commission.
From near the European Commission, you should take the metro at the station "Merode" to reach "Parc". Here you will end up in front of the National park of Brussels which is bounded by the Belgian Royal Palace. You can also visit the Museum of Musical Instruments from the National Park over here.
If you are looking for the Manneken Pis, you will find it on Rue d'lEtuve. You will also find the female version of the Manneken Pis, the Jeanneke Pis down the Rue des Bouchers.
What is the Best Time to visit Brussels?
The most ideal time to visit Brussels would be spring or autumn. The tourist crowd will be tame and the flight prices will be more reasonable.
The weather in Brussels is most pleasant in spring. March to May is the best time to visit Brussels if you want to go sightseeing and enjoy the outdoors. You will most likely catch the best hotel and flight during spring and autumn.
The temperate climate of Brussels makes for pleasant summers and bitter winters. Although the winters seem like a bad time to visit, the vibrant winter festivity of Brussels will change your mind. So, no time is a bad time to visit Brussels.
Where to Stay in Brussels?
You will find various hotels and hostels in the capital of Belgium. From luxury to budget-friendly hotels, you will have your pick. Here is a list of a few of the hotels.
Hotels in Brussels:
Hotel Amigo
NH Collection Brussels Grand Sablon
Tangla Hotel Brussels
The Hotel Brussels
Thon Hotel EU
Courtyard Brussels EU
Motel One
Hotel a la Grande Cloche
MEININGER Hotel Bruxelles City Center
The Hotel Amigo, NH Collection Brussels Grand Sablon, and Tangla Hotel are luxury hotels. Nearest to the Grand Place square and Manneken Pis is the Hotel Amigo. But if you are looking for some peace and quiet along with the luxurious experience, you should opt for the Tangla Hotel.
Both the Courtyard Brussels EU and Thon Hotel EU are reasonably priced hotels near Brussels Park. Motel One is a reasonably priced hotel conveniently near the main train station.
If you are a young traveler on a budget, you will love the MEININGER Hotel Bruxelles City Center. If you are traveling with family on a budget, you should opt for the Hotel a la Grande Cloche.
Top 5 Places to Visit in Amsterdam
1. Rijksmuseum 
If you are an art fanatic, the Rijksmuseum is a must-visit. It is the National Museum of Netherlands and houses a huge collection of rare ancient artifacts and paintings. Some of the paintings are 8000 years old. 
If you are a bibliophile, you will also love visiting this museum. Because it is home to 35000 old books and manuscripts. It also houses a collection of medieval sculptors and traditional handicrafts. 
Rijksmuseum in Amsterdam:
2. The Royal Palace 
The Royal Palace of Amsterdam was built in 1648. Its classical architecture is inspired by Ancient Rome.
The ceilings of the Palace are painted by Rembrandt's pupils, Govert Flinck and Ferdinand Bol. The Council hall is the most beautiful and largest room in the Palace. It is one of Europe's best staterooms. 
3. Dam Square 
Dam Square is most popular with tourists. Because it is home to various tourist attractions. From the Royal Palace, Nieuwe Kerk, Madame Tussauds Wax Museum to the National Memorial Statue. 
You can also find various cafes, restaurants, souvenir shops lined on this square. You will also be able to find plenty to do here, from shopping to riding Ferris wheels and listening to street performers. 
4. Van Gogh Museum 
One of the country's top attractions is the Museum dedicated to the most revered painter of the Netherlands, Van Gogh. Established in 1972, this museum exhibits the exceptional artistry of the artist. 
You will find 200 paintings, 500 sketches, and 700 letters of Van Gogh in this museum. Moreover, you will see a colorful multimedia presentation of Van Gogh's life.  
5. Anne Frank's House 
Even if you haven't read The Diary of a Young Girl, you may know about Anne Frank, the most famous Holocaust victim in history. You can visit Anne Frank's House, which was her hideout during WWII. 
The house hasn't changed much from what it was during Anne Frank's time. You will find her original red chequered diary in this museum. It serves as a heart-rending monument to the tragic history of the Holocaust. 
Anne Frank in 1935:
Tour Guide for Amsterdam 
Amsterdam is known for its historical gems, world-class museums, and incredible culture. You will love stopping here on a European city break. 
First, you should head to the Museum Quarter. Here you will find the best museums Amsterdam has to offer. Rijksmuseum, the National Museum of Netherlands is found here. It is home to various cultural antiquities, and paintings including Rembrandt's "The Night Watch". 
If you are a lover of "The Starry Night" you can visit the Van Gogh Museum in the Museum Quarter. You can also visit the Stedelijk Museum which is home to a huge collection of sculptures and paintings. 
Visit Amsterdam's most popular neighborhood, Jordaan. It is a mix and match of residential areas, boutiques, eateries, and live markets. You will love to take a stroll on the picturesque streets of Jordaan and view the multifarious attraction it has to offer. 
You will find the Anne Frank House in Jordaan. It is the actual hideout of Anne Frank. You will also find the Woonboot Museum, which is a floating museum, and the Amsterdam Cheese Museum here. 
The Royal Palace, National Monument, Rembrandt House Museum, the Oude Kerk, and Nieuwe Kerk are all places you must visit if you go to Amsterdam. Visit the Hortus Botanicus Amsterdam in the Spring to smell the flowers.
Taking a stroll down the ports and canals of Amsterdam is also a must. You cannot complete your tour to Amsterdam without soaking in the sun while on a boat ride on the canals.  
What is the Best Time to Visit Amsterdam?
The weather is usually pleasant in Amsterdam but it experiences variations in monthly rainfall. Winter is not a good time to visit Amsterdam because it rains the most during that time. October sees the most rainfall. 
The weather in Amsterdam is normally prone to changes. It can get super rainy and windy there. So you should go prepared for all the weather changes. Click here if you would like to know why The Netherlands is so windy.
Summer is the tourist season in Amsterdam. Although the temperature is not intolerable (71 F or 22 C), the canals, historical areas, and cafes will be filled with people. Hence, spring is the best time to visit the city.
March to April is a great time to visit Amsterdam as well. You can enjoy the King's Day Festival or watch the Tulips bloom in Keukenhof during spring.
Tourist boat on the Amsterdam canals:
Where to Stay in Amsterdam?
You will have multiple accommodation options depending on your budget and situation in Amsterdam. Here are some of the hotels in Amsterdam. 
Hotels in Amsterdam:
· NH Collection Amsterdam Grand Hotel Krasnapolsky
· Pulitzer Amsterdam 
· Mövenpick Hotel Amsterdam City Centre
· Holiday Inn Express Amsterdam Sloterdijk
· Hotel Vossius Vondelpark
· Blossoms City Hotel
· ClinkNoord
· The Bulldog Hotel and Hostel
The NH Collection Amsterdam Grand Hotel, Mövenpick Hotel, and Pulitzer are luxury hotels. The NH Collection Grand Hotel is situated in Dam Square, right opposite the Royal Palace. Moreover, it is close to most of the tourist attractions of Amsterdam. 
If you want to stay a bit away from the hustle and bustle of the city center, you can opt for Holiday Inn Express. The Vossius Vondelpark and Blossoms City hotels are mid-range hotels. Hostels you can consider staying at on a solo trip are ClinkNoord and the Bulldog Hotel.
Travel Expenses for Amsterdam and Brussels
While choosing which city to visit first, the travel expense is a concern. The table below presents the estimated expenditure of one person staying a day in Amsterdam and Brussels.
Click here if you would like to know what is the best way to travel around in the Netherlands.
Average costs for spending a day in Amsterdam or Brussels:
| | | |
| --- | --- | --- |
| | Amsterdam | Brussels |
| Average Daily Cost | €135 or $158 | € 97 or $115 |
| Local Transportation | €22 or $26 | €13 to €21 or $15 to $25 |
| Food | €30 or $35 | €25 or $29 |
| Tourist Attractions | €14 or $17 | €12 or $14 |
| Accommodation | €68 or $80 | €54 or $64 |
Click here if you would like to know why the Netherlands is so expensive to visit.
Conclusion
You will find the wow factor in both Amsterdam and Brussels. Both cities have a great lot to offer. But your travel situation will dictate which is better for you to visit first. If you want to steer clear of tourist frenzies or are on a budget, choose Brussels. If you want to enjoy the nightlife with friends, go to Amsterdam.
I hope this article helped you find the answer to the "Brussels or Amsterdam, which is better" question. Whichever city you choose to go to first, I hope you keep an open mind and enjoy your travels.
If you would like to get some information about other cities for your Euro trip, check our latest blog about: Berlin Or Amsterdam: Which Is Better?