As someone who has traveled to many different exotic places in the world, I have seen what makes certain cities famous. Paris is famous for its romance, New York is famous for diversity and business, Milan is famous for fashion and shopping. So "what is Amsterdam famous for?".
Amsterdam is famous for its fine culture, rich history, beautiful canals, coffeeshops, and its famous Red Light District. Because of this, Amsterdam was visited by 9 million tourists in 2019.
If you are looking for a city that pulls you in with its art, charm, grace, and beauty, then look no further than Amsterdam. Don't believe me? Well, let's take a look at exactly what it is that makes Amsterdam so great, and why it is visited by more than 9 million tourists each year.
What is Amsterdam Famous For?
When we are talking about what makes a city famous, we have to really look at exactly what sights, histories, and cultural influences that the city has.
Amsterdam has no shortage of all of these for us to explore. And yes, before we get started, Amsterdam is far more than just a layover spot for backpackers to grab some "green".
Now, let's kick off with the question "why is Amsterdam famous?". This all has to do with what Amsterdam has to offer as a tourist city and what makes a visit to Amsterdam, the capital of the Netherlands worth your time and money.
The cultural significance of Amsterdam:
Amsterdam is a relatively compact city in terms of land coverage to population density. In just 219 sq km (84 sq mi), over 838,000 people are living and thriving in the city. But this isn't the most impressive stat.
The most impressive feature of Amsterdam is the fact that within the confines of this city there are over 50 museums--many of them world-famous! This means that there is nearly 1 museum for every 0.25 sq km (0.09 sq mi) of land. That is absolutely insane!
This is what makes Amsterdam the cultural capital of the entire region. The city is bursting at the seams with art, history, and culture to be experienced and learned. 
From the real-life Anne Frank house to the world-renowned Rijksmuseum, and even the Van Gogh museum which houses the largest collection of Van Gogh paintings on earth, you will find it all here. But the culture doesn't end there.
Amsterdam is not only a center for cultural and historic remembrance. It is a living and breathing cultural melting pot. In Amsterdam, you will find over 170 distinct nationalities living together and coexisting. 
In the entire world, only a few cities have more different nationalities. This makes Amsterdam one of the most culturally diverse places on earth. You will notice this in the foods, music, art, and people you meet on every corner. Amsterdam is famous for a mixed cultural experience!
The beauty and charm of Amsterdam:
Amsterdam is an incredibly charming city to visit. The beautiful 17th-century Golden Age architecture paired with the intricate canal systems makes central Amsterdam one of the most striking cities in the world.
It leaves you feeling like you took a step back in time, to a place outside of this era completely.
The canals of Amsterdam are some of the most romantic and beautiful in the world. While Venice is apparently known as the city that has the most beautiful canals, Amsterdam should not be completely forgotten. This is also why Amsterdam has been nicknamed "Venice of the North".
Here you can walk for miles along the canals or grab a bottle of wine and watch all boats passing by. Of course, you can also take a boat tour, and enjoy the beauty of the city from the water.
You can enjoy Amsterdam on many different ways: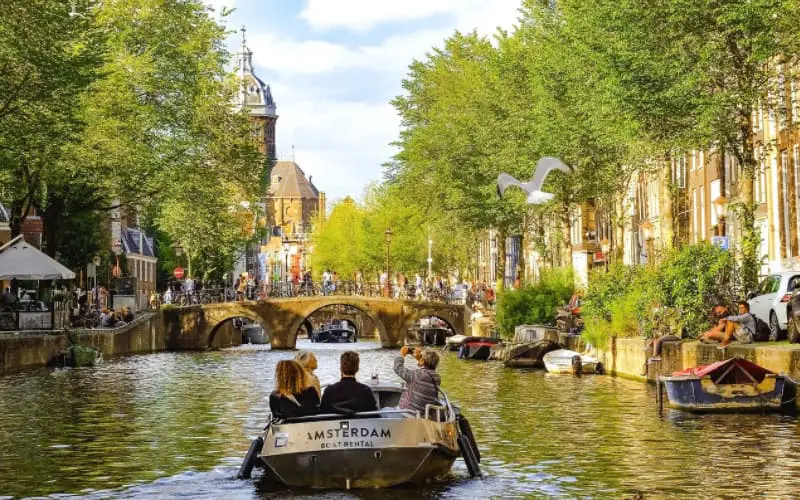 Aside from the beautiful architecture and canals, the people of Amsterdam are most of the time very friendly. If you are looking for something, they are willing to help you and do this in excellent English. This because the Dutch people are known for talking many foreign languages.
But I must also say that not all Amsterdam residents are happy with the many tourists. The locals who live in the center are much inconvenienced by the high number of tourists.
Amsterdam is also known as the Sin City of Europe:
Yes, yes, I know I can't avoid it. We have to talk about the quirky features of Amsterdam at some point. At least, if we want to talk about ​all​ of the ways that Amsterdam is famous for.
Because, in its own way, Amsterdam is famous for being a very quirky city all around. Most notoriously Amsterdam is famous for what you ​can​ do, rather than what you can't. This is why Amsterdam got nicknamed the City of Sin.
You see, authorities in Amsterdam long ago decided that it was best to allow the people certain pleasures, so long as no one was getting hurt. This, namely, included the use of soft drugs like marijuana and prostitution.
This led to the rise of "coffeeshops" and the "Red Light District". Although rest assured, Amsterdam is not a city of debauchery! For most people, these places are just simply there and aren't frequented.
However, the fact remains that in Amsterdam there is a bit of a quirky side. You can roll up a joint at a coffeeshop, or go and meet a legal sex worker in the red light district. Take that, Las Vegas!
Amsterdam is one of the most eco-friendly cities:
Another area in which Amsterdam is world-renowned and famous is the cleanliness of the city itself. From the appearance to the actual eco-friendly nature of it.
The city of Amsterdam is famous for being incredibly conscious of its surroundings and their impact on the world. Amsterdam ranks 5th when it comes to the most eco-friendly cities for working people.
This is partly due to the many cycling and walking to work, the high number of vegetarian and vegan eateries, renewable energy, and the many techniques used to be environmentally friendly.
For example, 58% of the Amsterdam residents each day go to work on foot or bike. This is also why Amsterdam is one of the most bike-friendly cities in the entire world.
But Amsterdam is not satisfied with this. For example, the city wants to emit 95% less CO2 by 2050 and 80% of the houses must run on sustainable energy by 2030.
Another good example is the quality of the water in the Amsterdam canals. This has improved enormously in the last decades. In the past, the sewers even ran into the canals and people got sick from the water.
Nowadays, water is pumped from the IJsselmeer through the canals, which has greatly improved the water quality. This even makes it possible to swim through the canals, something that is also done annually for a good cause.
In this way, Amsterdam tries to remain one of the most eco-friendly cities in the world. Many cities worldwide could take an example from this.
What is Amsterdam Famous For?
As we spoke about above, Amsterdam is a city famous for culture and architecture. This means that there are plenty of amazing places to see and experience when you are there.
The city itself has some incredibly famous landmarks that visitors from around the world go out of their way to see. Here are just a few!
Dam Square​:
Otherwise simply known as the "Dam", this massive central city square is where it all happens. Here you will find festivals, shops, street performers, and breathtaking architecture surrounding you. The Dam Square is a must-see for everyone visiting Amsterdam, and is one of the most famous sights in all of the city.
The famous "Dam Square" in Amsterdam: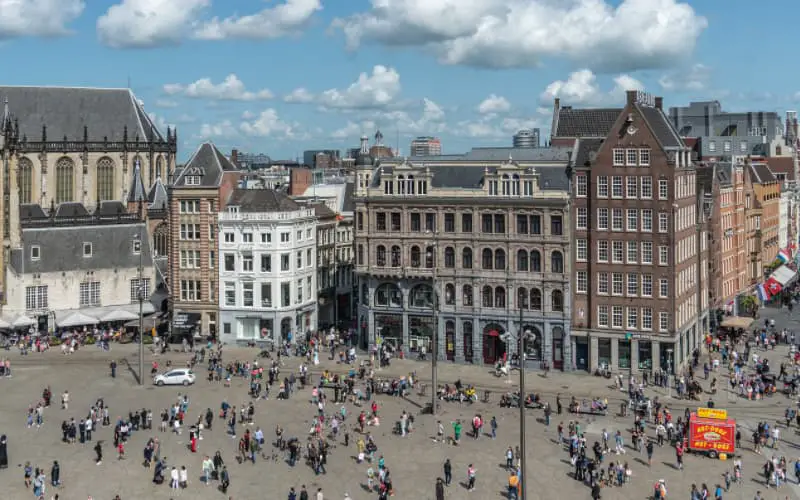 The Anne Frank House:
The Diary of Anne Frank is a heartbreaking tale of a young Jewish girl hiding from Nazi persecution during WWII. That girl lived right here in Amsterdam, right on the canal in this famous canal house.
Here she penned much of her diary and lived in the 'secret annex' hideaway for over 2 years. This home is now a world-famous museum and is one place that every visitor to Amsterdam must-see and experience.
Rijksmuseum:
The Rijksmuseum is among the most famous museums in the entire world. Here in this 19th-century complex, you will find some of the most famous European masterpieces of the ages.
You will be able to see such paintings as ​"The Night Watch"​ by Rembrandt van Rijn, The '​Self-Portrait' by Vincent Van Gogh​, and ​"The Battle of Waterloo" ​by Jan Willem Pieneman.
If you are a bibliophile, you will also love visiting this museum. Because it is home to 35000 old books and manuscripts. It also houses a collection of medieval sculptors and traditional handicrafts.
This museum of art is home to some of the most breathtaking works of human history and must be seen to be believed. It may be the most famous place in all of Amsterdam.
Van Gogh Museum:
One of the country's top attractions is the Museum dedicated to the most revered painter of the Netherlands, Van Gogh. Established in 1972, this museum exhibits the exceptional artistry of the artist. 
You will find 200 paintings, 500 sketches, and 700 letters of Van Gogh in this museum. Moreover, you will see a colorful multimedia presentation of Van Gogh's life.  
The Royal Palace:
The Royal Palace of Amsterdam was built in 1648. Its classical architecture is inspired by Ancient Rome.
The ceilings of the Palace are painted by Rembrandt's pupils, Govert Flinck and Ferdinand Bol. The Council hall is the most beautiful and largest room in the Palace. It is one of Europe's best staterooms. 
LEARN MORE ABOUT AMSTERDAM?
Then please check out the following articles:

- Why Is Amsterdam Called The Venice Of The North?
- Why Is Amsterdam The City Of Sin?
- Why Is Amsterdam The Capital Of The Netherlands?
- 45 Interesting Facts About Amsterdam (Fully Explained)
- 12 Best Amsterdam Canals Facts You Didn't Know
Conclusion
Amsterdam is among the most charming, beautiful, and strikingly unique cities in the world. Its quaint beauty is far too often overlooked for bigger and flashier cities in western and central Europe.
However, I hope that by reading this you now know "why is Amsterdam famous" and "what is Amsterdam famous for". This must-have ensured that Amsterdam is at the top of your list for cities to visit.
And thanks to our "Amsterdam City Guide 2022" you now know which places you must visit, when being in Amsterdam!