If you are considering visiting Amsterdam, you might want to know a little bit about the city. This will not only help you get an idea of what the city is actually like but knowing some facts about Amsterdam can also be a lot of fun. There is a lot to say about this city, as it is rich in both history and culture.
Amsterdam is a city that is known globally; therefore, lots of people know at least a little bit about Amsterdam. But the city has a lot to offer, so here are probably a lot of facts you might not know yet about this city.
Amsterdam has a rich history as it is over 600 years old, but there is also a lot to say about, for example, culture. All of the facts will be further explained so you won't be left hanging with questions.
1. Amsterdam is the capital city of the Netherlands
The history of Amsterdam as the capital city dates back to April 20th, 1806, when Napoleon got handed the keys to this city. He decided to give Amsterdam such an important role. However, the official start of Amsterdam as the capital city was in 1983. Even though the national government moved from Amsterdam to The Hague after the French had left, Amsterdam still remains the capital city of the Netherlands.
2. Amsterdam is home to 180 different nationalities
The Netherlands is a country that is quite open and tolerant. This attracts people from all over the world. Amsterdam is a popular city for foreigners to move to, which has led to 180 different nationalities in just the city.
These nationalities include but are not limited to French, American, Moroccan, Australian, Israelian, South African, and German.
3. Amsterdam got its name from a dam
Amsterdam's name is pretty self-explanatory and actually makes a lot of sense. The city is located at a river called the Amstel. In this river, there is a dam that was put there in the 13th century. "Amsterdam" came from the dam in the Amstel.
4. There are more bikes than people in Amsterdam
It is a well-known fact that cycling is very popular in the Netherlands. In fact, our capital city has more bikes than inhabitants. Amsterdam has about 872.922 inhabitants and about 881.000 bikes. Not all of those bikes are used, though, since some have sunk to the bottom of the canals.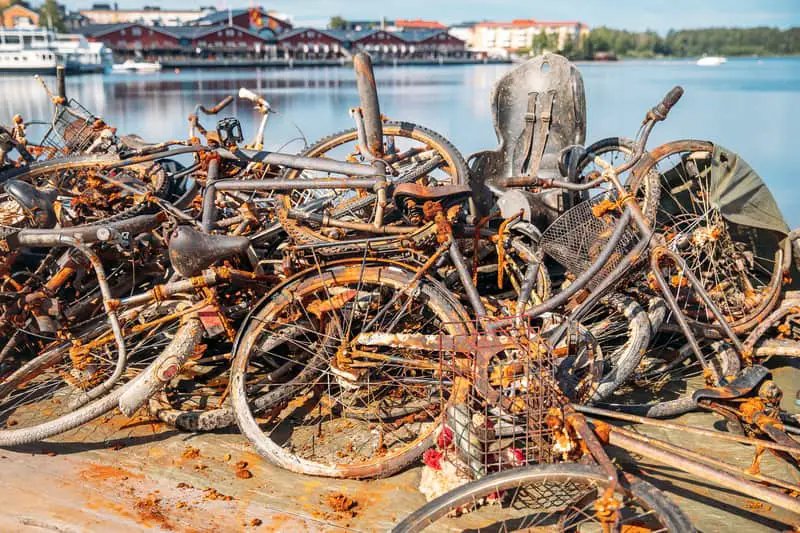 5. There are 165 canals in Amsterdam
Amsterdam is a city that has a lot of famous canals. In fact, Amsterdam has the second most canals out of all of the cities in the world. Even more than Venice in Italy.
There used to be even more canals in Amsterdam than there currently are, but several canals have been filled in, so there could be more space for the traffic. The oldest canal in Amsterdam was dug in 1385, which is quite some time ago.
(Click here to learn more about the Amsterdam canals)
6. There are 8 windmills in Amsterdam
When thinking about the Netherlands, the windmill is one of the first things that comes to people's minds. With Amsterdam being the biggest city in the Netherlands, it is not surprising that the city is home to several windmills.
In Amsterdam, there are eight of them. If you are in Amsterdam, the windmills are definitely worth taking a look at as it is a typical Dutch sight.
(Click here to learn more about windmills in the Netherlands)
7. The flag of Amsterdam has 3 Saint Andrew's crosses on it
The flag of Amsterdam can be dated back to the Persijn family, who were wealthy people living there. It is said that the three crosses represent three dangers that the Netherlands used to deal with, those being fire, flood, and the Black Death. There is no proof for this, though.
It is also possible that the crosses are there to honor St. Andrew, who was a fisherman and an apostle. St. Andrew is said to have been martyred on an X-shaped cross.
8. Ajax, Amsterdam's soccer club, is very successful
Soccer undoubtedly is a popular sport in the Netherlands. Many cities have their own professional soccer clubs, and so does our capital. Ajax is a very successful soccer club and has won many prizes.
They have won our country's championship 35 times, and internationally they are seen in tournaments quite often as well. Dutch soccer legend Johan Cruijff has also played a big role in the development of Ajax, and the current stadium of Ajax is named after him.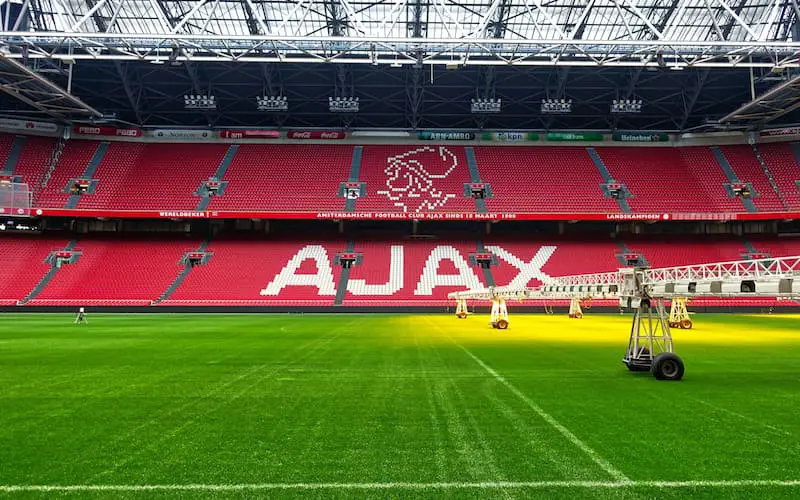 9. Amsterdam lies beneath sea level
Most countries lay above sea level. With the Netherlands, it's a different case. Big parts of our country lay beneath sea levels, including our capital city Amsterdam. The lowest part of Amsterdam is about 7 meters below sea level, which is about 23 feet.
Thanks to dikes, dunes, and Dutch knowledge about how to keep the water away from our cities, it isn't flooded. There is always the risk of a flood in the future, but our knowledge and technologies are evolving as well.
10. The most expensive street in Amsterdam is the P.C. Hooftstraat
Amsterdam is a great city for shopping, as there are so many stores and streets to visit, you could easily spend multiple days just shopping. If you have quite some money to spend, you might want to visit the P.C. Hooftstraat, but even if you don't, it might be fun to take a look there. This street is where all of the luxurious brands have their shops, such as Chanel, Gucci, and Dolce & Gabbana.
11. Amsterdam gets millions of tourists every year
In 2019, over 10 million people visited Amsterdam. Some of these people are natives living in a different part of the country, but plenty of those are tourists coming to visit from another country.
In 2020 there were a lot fewer tourists due to the global pandemic, but lots of tourists are expected again when things go back to normal.
12. Amsterdam has over a thousand bridges
A city with so many canals obviously needs some bridges. Amsterdam is not lacking in that department. With over a thousand bridges in the city, you are more than likely to get from A to B quite easily. The famous canal belt in Amsterdam is home to 80 of those bridges.
13. There are four main canals, attached by the Amstel
Those four main canals are the Singel, Herengracht, Keizergracht, and Prinsengracht. These canals all end in the Amstel and are the best-known canals in Amsterdam.
14. The Red Light District is one of the safest areas in Amsterdam
Although safety might not be the first thing that comes to mind when thinking about the Red Light District, this area is actually one of the safest areas in Amsterdam.
I still wouldn't recommend going out on your own in the dark, but due to the police and other authorities keeping their eye on this district, it is relatively safe. Beware of pickpockets, though.
15. Amsterdam has 164 coffeeshops
For quite some people, the coffeeshops in Amsterdam are part of the reason they want to visit Amsterdam. Since there are 164 coffeeshops in Amsterdam, I don't think they will be disappointed.
However, those coffeeshops do have some pretty strict rules they need to follow. Don't expect to be able to buy any hard drugs or to buy soft drugs as a minor. There is also a limit to how much marihuana you may buy.
(Click here to learn more about coffeeshops in the Netherlands)
16. The first coffeeshop in Amsterdam was opened in 1972
The first coffeeshop to be opened in the Netherlands opened in 1968 by owner Holly Hasenbos. However, this coffeeshop didn't have the same concept as they do nowadays. The first coffeeshop in Amsterdam was Mellow Yellow which opened in 1972 and was more like the coffeeshops we know now.
17. The coffeeshops are not allowed to advertise
Marihuana is tolerated in the Netherlands, and you can buy some at the coffeeshops. However, these coffeeshops are not allowed to advertise. They do get enough customers though, as it is clearly made visible on the outside what they sell.
An official green and white sticker tells you the coffeeshop is licensed. You have to be over eighteen years old and be able to identify yourself, otherwise, you cannot go inside.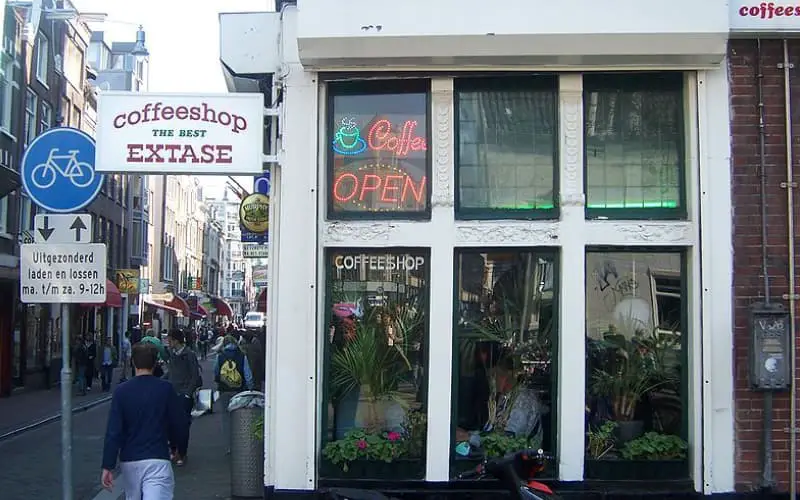 18. The smallest house in Europe is located in Amsterdam
The smallest house in Europe is only 2.02 meters wide and five meters deep. The house is located in Amsterdam at Oude Hoogstraat 22.
The story goes that when the coachman of the brothers who lived in a big house across the street saw the house, he called out he would be happy with a house even as big as that of their front door. The brothers heard and got him such a house.
19. The Trippenhuis is the widest house in Amsterdam
Located across from the smallest house in Europe, you can find the Trippenhuis. This is the house that the coachman was talking about when he said he would be happy with a house as big as the front door of the house his bosses had. It is one of the last examples of Dutch classicist architecture.
20. Amsterdam has lots of nicknames
The most used nickname Amsterdam has probably is Mokum, which is Hebrew for city. Amsterdam used to have and still has quite some Jewish people, which is why the city occasionally even gets called the Jerusalem of the North.
Another nickname Amsterdam has is Venice of the North, because of its many canals. Because of the many coffeeshops, Red Light District, and other temptations, Amsterdam is also nicknamed the city of sin.
21. The first same-sex marriage took place in Amsterdam
There is a reason the Netherlands is seen as a tolerant country. Our country was the first country in the world to legalize same-sex marriage, and on the first of April in 2001, the first four same-sex couples got married in Amsterdam.
22. Parking in Amsterdam is very expensive
Visiting Amsterdam for the day? Then it might be a good idea to go by public transport. Parking in Amsterdam is absolutely not cheap. The most expensive places are 7,50 euros ($8,90) an hour, which means that spending 50 euros ($59) on parking whilst visiting Amsterdam for a day is not unlikely.
23. Amsterdam's most popular attraction is the Rijksmuseum
Amsterdam has a lot of attractions, and several of those are museums. However, there is one attraction that gets the most visitors yearly and can be called the most popular attraction in Amsterdam. This is the Rijksmuseum.
The Rijksmuseum is a big museum located in Amsterdam and has a lot of works dating back to the 17th century. The museum attracted more than 2,5 million visitors in 2019 alone.
At the Rijksmuseum, you can find art by great Dutch painters of the past, such as Rembrandt van Rijn, Johannes Vermeer, and Frans Hals. The best-known work the museum owns is The Night Watch, by Rembrandt van Rijn.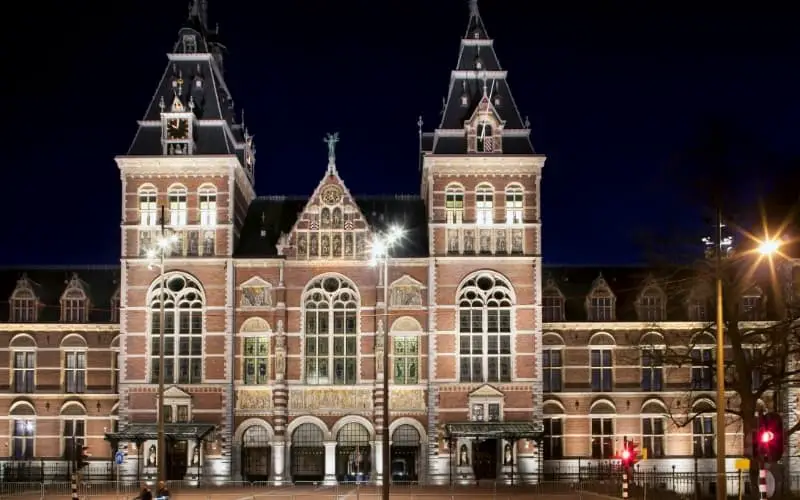 24. Amsterdam is built on stilts
Amsterdam hasn't always been the city that it is nowadays. It started out as a big chunk of swamp-like land. Because of this swamp-like ground, the city is built on stilts. The stilts stop the city and its buildings from sinking into the ground.
Most houses need about 10 stilts, but the train station is standing on 9000 stilts. The palace on the Dam square is said to be resting on 13569 stilts.
25. There is a floating flower market
This flower market was started back in 1862 and is one of the most famous flower markets in the Netherlands. The flowers are all for sale on boats because that is how they used to be delivered in the past. At this flower market, you can buy all kinds of flowers, including the famous Dutch tulips. You can also buy flower bulbs so you can grow your own flowers.
26. Amsterdam has 40 parks
If you want to enjoy nature or go for a picnic, Amsterdam is full of parks you could visit. With 40 parks, there is always a park near you. The biggest and best-known park in Amsterdam is the Vondelpark which has a surface of about 47 hectares. You can enter this park from the Amstelveenseweg or the Stadhouderskade.
27. You can visit the royal palace on the Dam Square
It started out as a city hall, but after Napoleon used it as a palace, it remained a palace. Nowadays, it plays an important role in state visits, royal weddings, and other important events. However, it is open to visitors as well. If you want to learn more about this beautiful palace, I definitely recommend visiting it.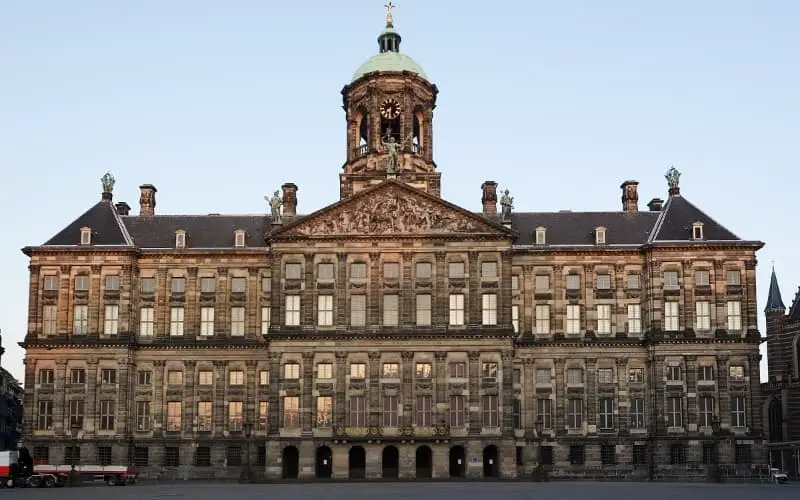 28. You can find the Anne Frank House in Amsterdam
Anne Frank is one of the best-known people to ever live in Amsterdam. She was a Jewish girl who hid from the Germans during the second world war. She kept a diary in which you could read all about her life. She died in one of the concentration camps in Germany, and after the war, her father published her diary.
In the Anne Frank House in Amsterdam, you can visit the place she used to hide and the decor of the stories she wrote down in her diary.
29. Amsterdam has the most university students in all of the Netherlands
If you visit Amsterdam, chances are you will see some students. Amsterdam is home to two universities, Vrije Universiteit Amsterdam and Universiteit van Amsterdam. With about 50.000 students divided over these two universities, Amsterdam is the city with the most university students out of all cities in the Netherlands.
30. Most of Amsterdam's inhabitants are 25 to 45 years old
Amsterdam is a city in which a lot of people live. There are a lot of different types of people; Amsterdam truly is a diverse city.
However, when looking at age, there is one group that is the biggest, which is the 25 to 45 years old. Over 300.000 inhabitants belong to this age group. For comparison, there are about 210.000 inhabitants in the age group 45 to 65 and about 230.000 inhabitants in the age group 0 to 25.
31. Artis is the oldest zoo in the Netherlands
Artis is a zoo located in Amsterdam. The park has 27 monumental buildings dating back to the 19th century. Artis originated in 1838, making it the oldest zoo in the whole country. Each year, over a million people visit Artis. You can find a lot of different animals in Artis, including some species that are on the brink of extinction.
LEARN MORE ABOUT AMSTERDAM?
Then please check out the following articles:

- Why Is Amsterdam Called The Venice Of The North?
- Why Is Amsterdam The City Of Sin?
- Why Is Amsterdam The Capital Of The Netherlands?
- Why Is Amsterdam Famous? The Best City Guide For 2022
32. Pride Amsterdam is one of the most successful events in the Netherlands
Each year since 1996, the first weekend of August has been dedicated to Pride Amsterdam. This event celebrates people who are part of the LGBTQ+ community, proving yet again that the Netherlands is a tolerant country in which you can be yourself.
Especially famous is the canal parade. During the canal parade, several boats take a tour through the canals with partying people who are celebrating their identities and differences. In 2008, the United States of America proclaimed this event to be the best gay celebration in all of Europe. 
33. The best-known neighborhood of Amsterdam is called the Jordaan
The Jordaan has a rich history and used to be a working-class neighborhood. Lots of workers lived here, alongside painters. Dutch legend Rembrandt van Rijn also used to live here. After the Golden Age of the Netherlands, the Jordaan was subject to poverty. The Second World War didn't help with that either.
But in the 16th century, restorations were started. Nowadays, it is one of the most popular neighborhoods in Amsterdam, especially with tourists, due to the picturesque canals, local shops, and cute cafes.
34. Amsterdam has an oceanic climate
Due to its location close to the North Sea, Amsterdam has an oceanic climate, according to the Köppen Cfb system. This means the climate is cool with moderate temperatures. There is a chance of rain throughout the year.
35. The Amsterdam Light Festival takes place every winter
During December and January, Amsterdam turns into a true light fairy tale. You can walk through the city or book a boat tour, and enjoy the amazing light artworks. The artworks are created by artists from all over the world; there even are a few permanent artworks.
If you are planning to visit Amsterdam during these months, I definitely recommend checking out this festival. It truly feels magical.
36. There are 2500 houseboats in Amsterdam
Since Amsterdam has so many canals, people got creative with living opportunities. There are currently 2500 houseboats in Amsterdam. This number is not likely to grow anytime soon since the township put the limit at 2500.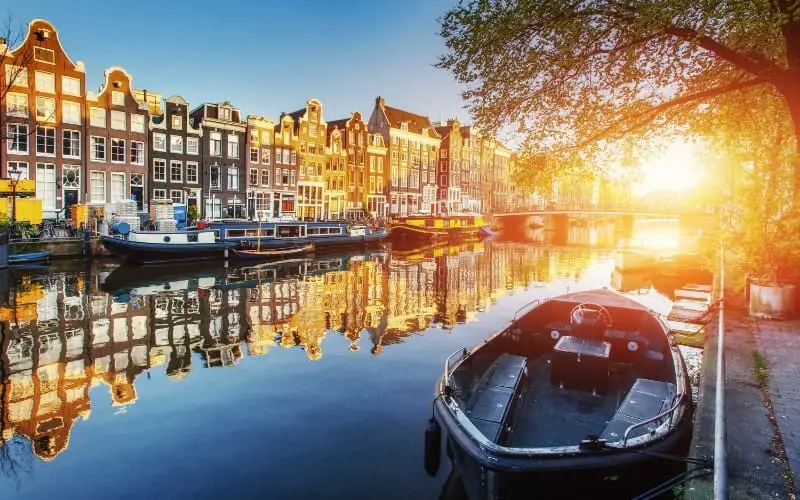 37. There is a bike flat in Amsterdam
There is a big bike storage at Amsterdam Central station in which you can park your bike for free. There are multiple levels to this flat, and it is the most popular and most photographed biking storage by tourists. To us Dutch people, this is simply normal. It proves how important cycling is to our culture.
38. The Amsterdam Stock Exchange is the oldest in the world
In 1602 the Amsterdam Stock Exchange was set up after establishing the Dutch East India Company. Nowadays, this stock exchange is referred to as Euronext Amsterdam as it merged with the Brussels Stock Exchange and the Paris Stock Exchange, but it is the oldest stock exchange in the world that is still in use today.
39. Amsterdam Airport Schiphol is the largest airport in the Netherlands
There are a few different airports in the Netherlands, but Amsterdam Airport Schiphol is the biggest one. Many flights depart from and land at this airport, and in 2018 it was the third most busy airport in all of Europe.
Amsterdam Airport Schiphol is the home port to several Dutch airlines, such as KLM, Corendon, and Transavia.
40. There are about 300 room cabins in the Red Light District
You have probably heard of the famous Red Light District in Amsterdam. This is where most prostitutes are located. They often try to get their customers by standing in front of a window with red lights. This is where the district got its name.
There are about 300 room cabins that get rented by sex workers. This way, prostitution is legal and regulated. It is illegal to pick up a sex worker from the streets. You can find some sex workers during the day, but the district really comes to life after dark.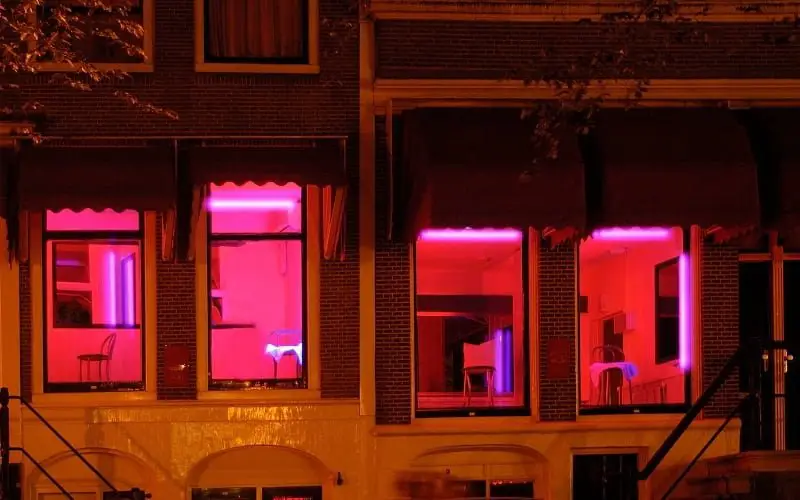 41. The average price of rent in Amsterdam is € 21,76 per square meter
Amsterdam is not a cheap city to live in. It is nationally known that finding an apartment in Amsterdam is difficult and that the prices are not helping with that. In the first quarter of 2021, the average rent in Amsterdam was 21,76 euros (25,97 dollars) per square meter.
In comparison, in Rotterdam, the average rent is 15,48 euros (18,48 dollars) per square meter, and in Utrecht, the average rent is 17,81 euros (21,26 dollars) per square meter.
42. Heineken was founded in Amsterdam
With over 140 breweries in 71 countries, Heineken beer is known globally. About half of the brand's profit is due to their selling in other countries, while the Netherlands is responsible for the other half. Heineken was founded in 1864 in Amsterdam and had been going strong ever since.
43. Amsterdam has the largest outdoor market in Europe
The Albert Cuypmarkt is the most crowded outdoor market in the Netherlands and the largest outdoor market in Europe. The market is open six days a week, and you can buy all kinds of products at 260 different stands. Since it is popular with tourists as well, you can also buy a variety of souvenirs at the Albert Cuypmarkt.
44. Amsterdam has so many narrow houses due to old tax regulations
A lot of the houses in Amsterdam are quite narrow. This is because the amount of taxes people had to pay back in the 17th century was based on the width of the house. This is why the houses are slender and tall, and they often make up for their narrowness with their length.
45. Most Dutch festivals take place in Amsterdam
Amsterdam has quite a lot of festivals that take place yearly. The Amsterdam Dance Event is one of the most popular and best-known festivals in both Amsterdam and the Netherlands. Dance Valley, which is the longest-running dance festival in the world, also takes place close to Amsterdam.
MORE FACTS ABOUT THE NETHERLANDS!
Do you like facts? Then please check out our other articles with interesting facts about the Netherlands!

- 19 Interesting Dutch Windmill Facts (Fully Explained)
- 12 Best Amsterdam Canals Facts You Didn't Know
- 54 Interesting Facts About The Netherlands (Fully Explained)
- 15 Interesting Facts About Dutch Food (Fully Explained)
- 38 Interesting Facts About Utrecht (Facts Fully Explained)
- 52 Amazing Facts About Rotterdam (Facts Fully Explained)
- 30 Facts About Sports In The Netherlands (Find Out Now)
- 46 Fascinating Facts About Dutch History (Find Out Now)
Conclusion
Hopefully, you now know a little bit more about Amsterdam. Maybe you can impress your entourage by listing some of those facts about Amsterdam, or maybe this article just confirmed something you already knew. Either way, Amsterdam is a pretty interesting city which most Dutch people are very proud of.