With so many different places to visit inside Europe, a lot of people forget to mention the cheese-city, Alkmaar. People visiting the Netherlands usually go to places like Amsterdam, Utrecht, and Rotterdam. Probably many tourists have never even heard of Alkmaar. So, "is Alkmaar even worth visiting"?
Alkmaar is definitely worth visiting. Known as the Cheese-City, Alkmaar holds regular cheese markets and has beautiful scenic architecture throughout the city. There are several museums, beautiful canals, windmills, and tulip fields. Alkmaar is a must-visit place for every tourist.
To get the most out of your tourist experience in Alkmaar, you need to know exactly what to do and where to go. Listed below, therefore, is a guide to help you decide whether or not you want to include Alkmaar as your next traveling destination.
Where is Alkmaar Located?
Alkmaar is located just 30 kilometers (18 miles) north of Amsterdam, the capital of the Netherlands. When you travel by train from Amsterdam to Alkmaar, this takes half an hour to 45 minutes, by car it would take about the same amount of time.
Situated in the Dutch province of North-Holland, it looks and feels pretty much like Amsterdam, with beautiful storehouses and canals flowing through the city. The streets are narrow and quiet and look very pleasant. Alkmaar is of course many times smaller than Amsterdam, which makes it feel more like a large village.
Alkmaar is just perfect for strolling around and taking in the beauty of the architecture that surrounds the city. The mornings and evenings are quiet and serene, and you can spend the whole day quietly exploring the city just by yourself. If you are with family there are a lot of places you can visit as well.
The city of Alkmaar was originally a fishing village back in the 10th century. Alkmaar is located about only 10 kilometers (6.2 miles) east of the North Sea. So if you want you can drive to check out the beaches as well.
Tourist Attractions in Alkmaar
Even apart from the Cheese Markets, the cheese city is full of scenic places for you to explore. If you are a lone traveler, this city is perfect for you to quietly explore, as just strolling around is perhaps the best way to experience Alkmaar. This city is rich in culture and beautiful architecture, and there are plenty of places for you to check out.
Museums in Alkmaar
Alkmaar is rich in its culture and heritage and has amazing museums that are all worth a visit. The Stedelijk Museum Alkmaar was first opened in 1875, which makes it one of the oldest of its kind in the Netherlands. They display over 12,000 historical and artists artifacts and other objects.
Stedelijk has an amazing collection of paintings from the 16th and 17th centuries and boasts a huge collection of the works of Begen School. This museum is the perfect interactive way to learn about the history and heritage of Alkmaar.
The city also has its very own Beatles Museum that boasts a private collection of Beatles memorabilia and amazing goodies. You will get to see the coolest posters, LPs, gold albums, and plenty of Beatles merchandise. They even have a gift shop so you can score some great gifts for your friends and family.
And of course, it wouldn't be complete without a cheese museum. Yep, Alkmaar also has a Dutch Cheese Museum with a life-size cow statue. It shows you very beautifully how cheese is made, starting from the cow to the delectable end product. This museum is perfect for kids and family with interactive games and audio-visual storytelling.
The Alkmaar Cheese Markets
Alkmaar is perhaps most famous for its traditional cheese markets, which started out early in 1365. The city has been called the cheese city and still traditionally sells cheese, unlike other places. The cheese markets are a long-standing tradition and have been going around for at least four centuries and thousands of people still attend every year.
The Alkmaar Cheese Market happens every Friday at Waag Square (Waagplein), which is directly in front of the Waag building. These markets are more of a show, and people gather on Fridays from March all through early September. During the months of July and August, the Market also takes place during Tuesday evenings as well.
The Alkmaar Cheese Market is a popular tourist attraction and hosts about 100,000 people each year. It is one of those times when the city is crowded. During these spectacles men in white uniforms, wear straw hats decorated with colorful ribbons, and carry cheese wheels across the city.
Originally the market began for the trade of cheese, and the cheese carrier's guild or "Kaasdragersgilde" has been around since at least 1619. The market has grown and enlarged at least 8 times to reach its current size and shows how important the cheese-trade has been for Alkmaar.
The market opens up at 10 am every Friday, and the "setters" set everything up for display by 9 30 am. There is a "Cheese-Father" who is in charge of examining all the cheese and inspecting whether everything is going okay. Prices are bargained by slapping hands together and making loud noises. The sellers shout the prices with each clap.
Once a deal is made, cheese is carried down to the Waag, on a wheel-barrow, where the cheese is weighed. After being weighed, the cheese is carried down to the buyers' lorry. All of the cheese must be sold by 1 pm because that's when the terrace turns into a place for locals and tourists to eat at. What initially started because of necessity, is now more of a show for the audience.
It is a sight to remember, for anyone who has never seen it before. If you are in or around Alkmaar be sure to check the Cheese Market and try to align your plans so that your Alkmaar visit falls on a Friday. It will be unlike anything you have ever experienced before, and it is a joyous celebration of tradition and cheese!
Windmills in Alkmaar
Alkmaar has about 33 windmills and these are all big and beautiful. They are located in and around the city and you can check them out for an amazing view. The large windmills are all set against different, beautiful backdrops and can be an amazing place for photographs. If you are all about aesthetics, these windmills will be perfect for you.
Some of these windmills are located in the center of the city, or within walking distance. Namely, "Molen van Piet" which translates to "The Windmill of Pete", and "De Viaan", which is just as beautiful. Most windmills, however, are outside the city and situated in rows at a dyke. These are as well beautiful to look at, especially during summertime.
Many locals in Alkmaar also offer tours of these windmills and take you inside them and explain the history and mechanics of it all. Each of these tours can take about 2-3 hours and they will boat you through the canals to different windmills within the city and give you an amazing tour from an insider.
Whether you are traveling alone or with a partner, touring through the windmills can be a great experience. Especially for those of you who have never seen one up close, you will be surprised at just how big a windmill is. Just make an appointment with a guide and your evening is set.
The Netherlands has many windmills, if you would like to know why, please check out our blog about that topic.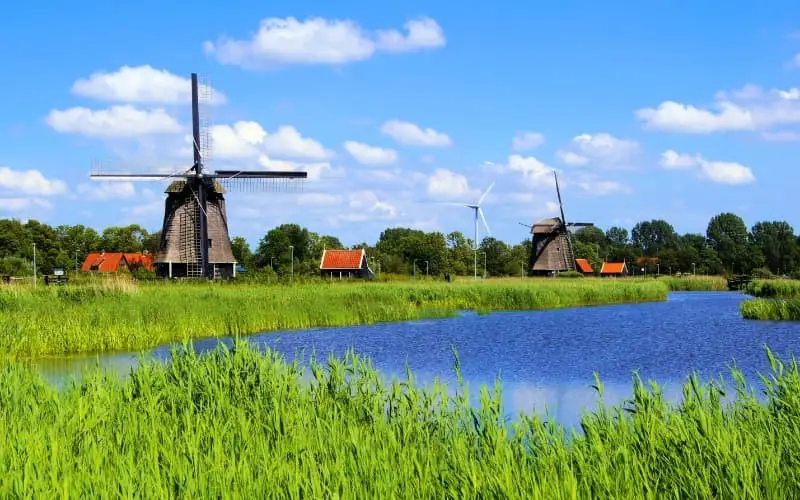 Tulip Fields Near Alkmaar
The Netherlands is the home of many different kinds of flowers and flowers are regularly exported all over the world from here. Tulips are one of the most famous ones, with their beautiful yellow or red petals that brighten up any place. Alkmaar has a bunch of tulip fields which are beautiful to look at.
Rows and rows of colorful tulips: pink, yellow, red, and orange, their colors are just amazing. It is a sight to behold. April is a great month to visit Alkmaar because that is when these flowers are in full bloom. The best way to experience these tulip fields is by cycling across the fields and taking all the scenery in. They have bicycle routes just for this.
Not just tulips, there are other gardens and flower fields all across Alkmaar. Heerhugowaard, Egmond, and even Petten, if you drive towards these places you will find plenty of flower fields on your path. There are also guided tours available if you want a more in-depth experience.
Though you would likely want to take pictures here, these fields are usually owned by private properties so it is best if you refrain from taking pictures without permission. Guided tours are better for this, as they would provide a little fewer restrictions if you are paying the owners as their livelihoods come from these tulips.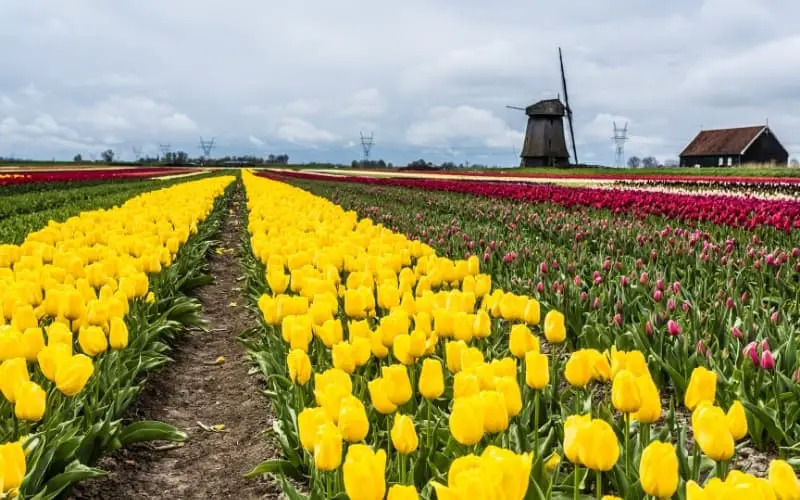 Canals in Alkmaar
Just like Amsterdam and other cities in the Netherlands, Alkmaar is also a canal town. With canals decorating the entire city, and bridges here and there, Alkmaar looks like it is out of a photocard.
Originally, these canals were built for sewage systems and were used as a defense for the city. Nowadays, however, they mostly serve as a tourist attraction and there for decorative purposes. Tourists and locals alike, adore the canals and take regular boat rides around the city.
There are several guided boat rides offered at the canals. You can take any of them, and float around the city to see how it has evolved, going underneath bridges and passing by many of the beautiful historic places Alkmaar has to offer.
Your guide will tell you little facts here and there as you pass by each monument. It feels like a trip through time and history. Boat rides are also a wonderful way to explore the city without being too worn out.
You can also get private boats if you do not like guides and such. You can take your partner out on a romantic boat ride, and have pleasant conversations against the beautiful backdrop of Alkmaar, just like in the movies. Or if you are with family, you can have an amazing time as well, as kids will love the boat rides.
Perhaps the best way to explore Alkmaar is by water, second only to strolls and walks. Not many cities around the world have canals, so if you have never experienced floating through a city before, this could be your chance.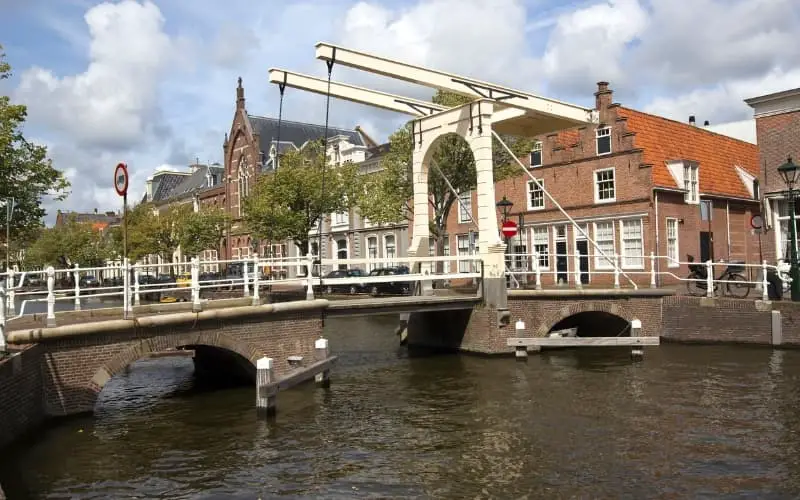 The Beautiful Architecture of Alkmaar
Simply walking through the streets of Alkmaar will expose you to the most beautiful kinds of buildings and houses. Alkmaar is filled with beautiful houses from previous generations and canals flowing through here and there. All these old buildings are great places for your photography desires.
The streets are clean, paved with tiny bricks. The picturesque rows of houses, along with the canals make Alkmaar the perfect place to just stroll about. The Turfmarkt canal is one such place, with beautiful red buildings all lined across the canal.
Sint Laurentiuskerk, near the heart of the city, is a beautiful church, built in the 18th century. It was designed in a Gothic Revival style and is open to visitors. You will find beautiful stained-glass windows inside and tall arched ceilings that look amazing.
Take a walk down Langestraat or Long Street and you will feel like you are part of a painting. With neatly lined roads and Gothic-style buildings on each side, it is a serene experience. This street even has a hexagonal clock tower and the end of it is the Stadhuis which is the City Hall.
There are also hidden gems if you are willing to look around, inside narrow streets. There are actually 8 different courtyards, called "Hofjes" by the locals. "Hofjes" were originally built to house the less fortunate.
Some of the beautiful courtyards you can visit include the House of Paling & Van Foreest and the House of Eight. These houses also hold monuments inside, which are sometimes open for visitors as well.
All of the city is right out of a masterpiece, and just taking a simple walk will give you the most beautiful pictures to take. With family, or alone it can be a wonderful experience walking around the streets of Alkmaar.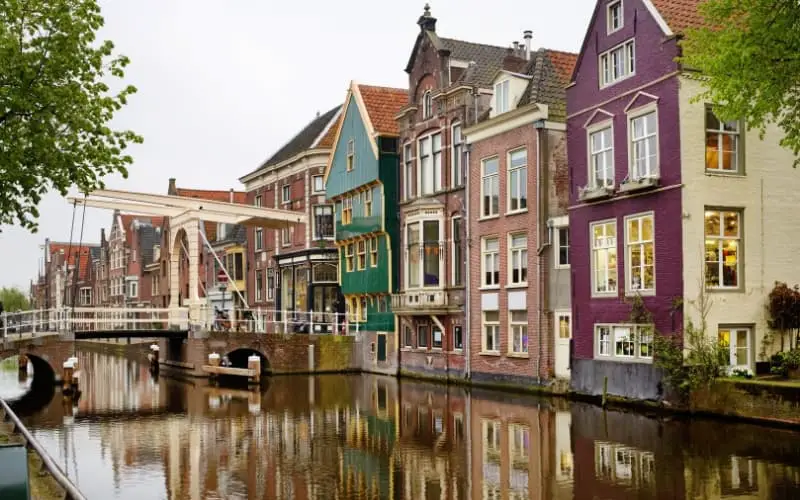 Beaches and Parks in Alkmaar
Alkmaar is surrounded by a lot of beaches that you can get to with just a short drive from the city. Egmond aan Zee, Schoorl and Bergen aan Zee are all great options. You can easily reach these by bicycle or car. If you do not have private transportation, you can also take the bus.
The beaches are beautiful, with clean sand and a golden view. If you can catch the sunsets, you will forever remember the gorgeous scenery. It can be a great romantic getaway with your partner. The beaches are not too crowded, so you can always plan an intimate date with your loved one, after a hectic day of traveling around the city.
There are also great parks like the Park Oosterhout and Alkmaarder Hout. If you are with family and kids, this can be a wonderful place to rest, while the kids play around in the park.
There are also some forests and lakes, which are worth a visit. You can bike your way to the Geestmerambacht Lake, or Alkmaarder Meer lake to take beautiful pictures or just stroll around. You can also go to the Heilooerbos forest, and ride around with your kids to check out the greenery and wildlife.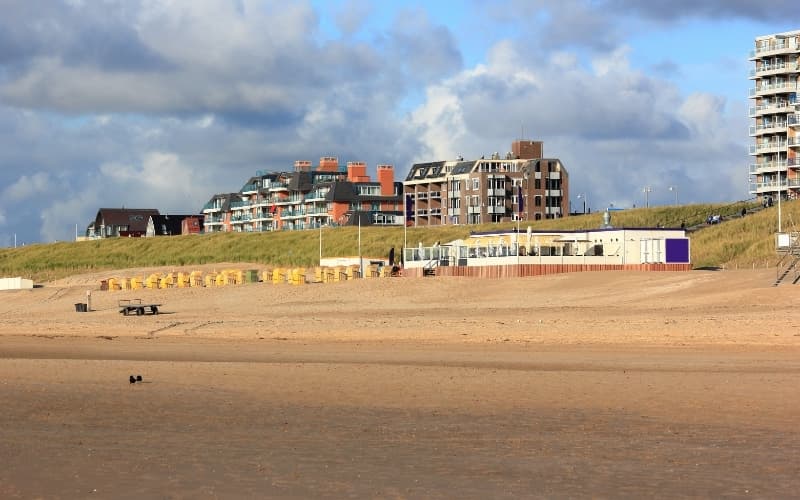 Where to Eat in Alkmaar?
If you are tired from all the walking, and just want to sit down, Alkmaar also has some wonderful places to eat. On days there is no Cheese Market, Waagplein turns into one big terrace-café. The food is amazing, and the view is just as fine with the beautiful streets of Alkmaar to accompany you while you eat.
There are several cafes and locally owned stores across the different streets. Street food in Alkmaar is also pretty great, and you can find delicious items at very reasonable prices. Be brave and try out something new and strange. You might be pleasantly surprised.
Like any other city, Alkmaar has a variety of options when it comes to food from Thai to French, Italian, and everything in between. But you really can't leave Alkmaar without having eaten fish. Try to make reservations beforehand though.
Conclusion
Whether you are into food and cheese, or architecture and history, Alkmaar has something in store for you. It is a beautiful destination for travelers and is wonderful to spend time in. Whether you are going on a Europe tour, or just visiting the Netherlands, be sure to put Alkmaar on your list and you will not be disappointed.
I hope this article was able to answer your question "Is Alkmaar worth visiting?". Wishing you a wonderful trip full of fun and excitement.