Amsterdam is of course the most famous city in the Netherlands, but many more beautiful cities in the Netherlands are worth visiting. Due to Rotterdam's popularity as the largest maritime port, tourists might have the misconception that it is too industrial to offer a good time. Like them, you may also wonder whether visiting Rotterdam is good for tourists or not. 
Rotterdam is good for tourists. From the medieval St. Lawrence Church, old Maritime Museums, Renaissance City Hall to the futuristic Cube Houses and illuminating Erasmus Bridge, Rotterdam has a lot to offer to tourists. 
Explore the multiple tourist attractions that Rotterdam has to offer with me in this article. This article will also help you find out more about why you should visit Rotterdam. There is plenty to talk about. So, without further ado, let's get right to it.
Is Rotterdam Good for Tourists? 
Yes, Rotterdam is a tourist-friendly city that has a lot to offer to its visitors. Although the city is full of historical and cultural heritage, it is not a city of the past but rather a truly modern port city. No wonder, every year it is visited by 1.6 million overnight tourists. 
When in Rotterdam, tourists realize that it is not a drab old industrial port city. Instead of grey industrial infrastructure, they discover vibrant street art, futuristic buildings, buzzing markets, and fancy cafes in Rotterdam. 
Although half of Rotterdam is occupied by its massive port, you don't have to worry about cropping out shipping containers or oil tankers from your pictures. Instead, you can enjoy the view of the illuminating Erasmus Bridge and waterside Cube Houses.
What sets apart Rotterdam from other cities of the Netherlands is the skyline. You will find modern skyscrapers, residential districts, and lively shopping streets here. 
From the medieval St. Lawrence Church to modern Cube Houses, you can marvel at the union of the past and future in Rotterdam. From museums to random streets, you can appreciate art anywhere in Rotterdam. 
Popular Tourist Attractions in Rotterdam 
If you are looking for places to visit in Rotterdam, do not depend on your maps app alone. A random search on your app can befuddle you about where to go in Rotterdam.
Because you will find no shortage of places to visit and activities to do here. Hence, to narrow down your search, I have listed below the top 6 tourist attractions in Rotterdam. 
The Oude Haven (Old Harbour) and Maritime Museums in Rotterdam:
The Oude Haven (Old Harbour), Maritime Museum, and Harbor are maritime-related tourist attractions of Rotterdam. You will find all three attractions in one place, the Maritime District. If you are interested in the history of the strong nautical roots of the Netherlands, this is the place to go. 
You can stroll around the Maritime District or sit at a café and enjoy the view of local houseboats in the Oude Haven. You will see historic boats in the Maritime Museum of Rotterdam too. Here you will find various seafaring paintings, old ship models, and a 2000-year-old reconstructed vessel. 
The Maritime Museum Harbor is an open-air facility that displays the Buffel, a 19th-century ironclad lightship, and 20 other historic ships. The finest Dutch passenger vessel SS Rotterdam is on display nearby. Today it is both a maritime museum and hotel.  
The Old Harbour in Rotterdam: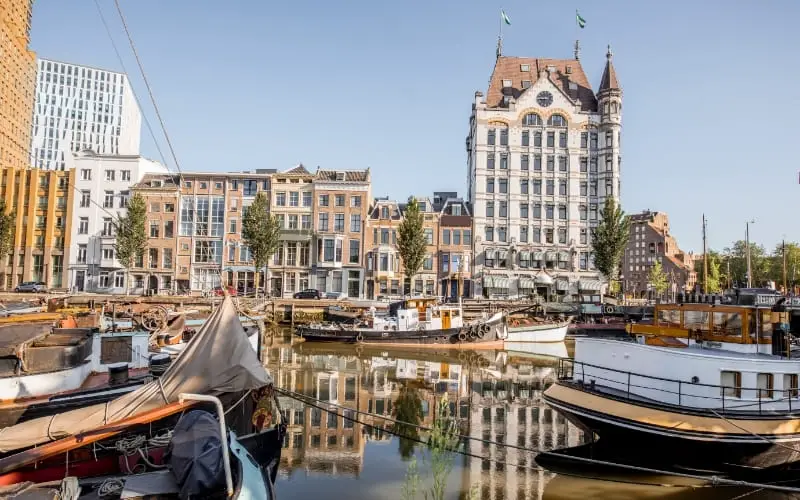 The Coolsingel street in Rotterdam:
From visiting the historic city hall to shopping, you can experience it all in the Coolsingel. From here, you can take a guided tour inside the Dutch Renaissance-themed city hall, Stadhuis. Opposite it, you can visit the war memorial, Stadhuisplein.
You can also view the 26-meter tall sculptor in front of the Bijenkorf shop, the World Trade Center, and the Bijenkorf departmental store on Coolsingel street. You can visit De Doelen, a concert hall that was destroyed during WW2 and rebuilt in 1966. 
At the Coolsingel, you can shop in the "Koopgoot" and "Lijnbaan" streets but also check out the theatre. The Rotterdam Schouwberg Theatre is a municipal theatre that was established in 1988. Thus, just by walking through Coolsingel street, you can explore various attractions of Rotterdam. 
St. Lawrence Church in Rotterdam:
You can get guided tours in English to one of the last standing medieval buildings of Rotterdam. The Sint-Laurenskerk or St. Lawrence Church is a protestant church that was affected during the bombings of WW2. 
The Gothic church was established in the late 15th century. But after the German airstrike, it was left heavily damaged. Fortunately, after the war, it was restored to its past glory. The interior beauty of the church remains untouched and is enhanced by the tinted glasses of the windows.  
The entrance gate of the church was designed by Giacomo Manzu, an Italian artist. At the front of the church, you will find a statue of Desiderius Erasmus who was the most notable citizen of Rotterdam. The church houses three famous Danish organs, which are the biggest in the Netherlands.
The Kinderdijk windmills close to Rotterdam:
Tourists from all over the world come to the Netherlands to visit the Kinderdijk windmills. This quaint village situated east of Rotterdam is a UNESCO World Heritage Site and one of the most visited attractions of the Netherlands.  
History buffs and windmill enthusiasts visit Kinderdijk village to view the world's largest and oldest surviving mass of windmills. Most of them were built between 1738 to 1740, to keep out water from the land. 
The Dutch windmills are its national monument, and thus they are celebrated on Mills Days. On those days, the sails of the windmills at Kinderdijk are again activated. 
Click here if you would like to know more about windmills and why the Netherlands has so many windmills.
The world-famous windmills at Kinderdijk: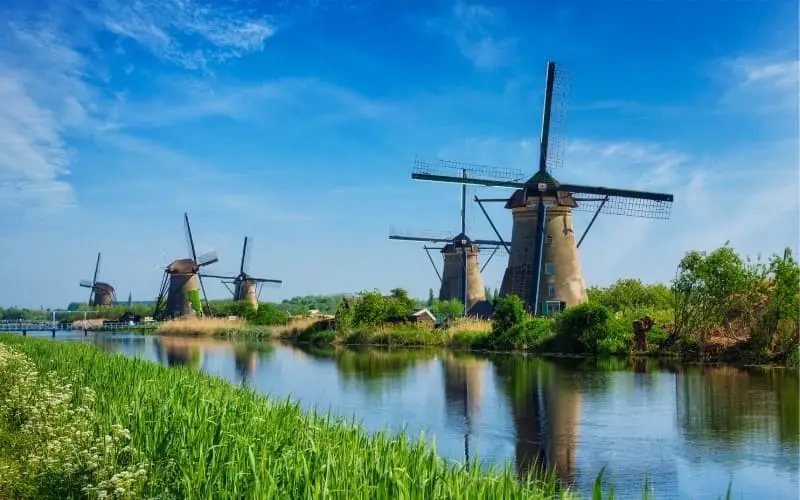 Boat Tour of Europoort, Rotterdam:
When in Rotterdam, you need to find out by yourself why it is called "The Gateway to Europe". You can only feel the gravity of the answer after taking a boat tour of the Europoort.
On your boat trip, you will not only notice the massiveness of the port but also view the city's most famous landmark, the Erasmus Bridge. Experiencing Rotterdam from the water is very different from seeing the city from the street. From the water, you can see the beautiful high buildings and of course the many traffic on the water.
The boat tour begins from the Hook of Holland. It includes the close-up viewing of Rotterdam's surge barrier and the Erasmus Bridge. 
Museum Boijmans Van Beuningen in Rotterdam:
Like most impressive cities, Rotterdam has its own impressive center of art, Museum Boijmans Van Beuningen. It is one of the most important museums of Europe as it displays the sculptures, paintings, and other decorative arts from the 15th to 19th century.
The museum represented 14th to 16th-century art by displaying the works of Jan van Eyck, Pieter Brugel the Elder, and Hieronymus Bosch. Works of Rubens and Rembrandt are also displayed representing the 17th century in this museum. 
Works of modern painters such as Chagall, Matisse, and Picasso are also presented here. From Monet to Dali, you will find a diverse range of paintings here. The paintings of Van Gogh displayed in this museum captivate you with their vibrant colors and hypnotic patterns.
(If you are an art-lover and you would like to check out some more art museums, then please read our article about the best art museums in the Netherlands.)
3 Reasons Why You Should Visit Rotterdam 
If you are still unsure about whether visiting Rotterdam is good for tourists or not, here are the three primary reasons why you definitely should visit Rotterdam.
1. Rotterdam has Dynamic Architecture 
Rotterdam was a city that rebuilt itself and its trailblazing architecture is a symbol of its resilience. The city was leveled to the ground after the WW2 German airstrikes. In response, the city built striking skyscrapers and modern buildings that contrast its past. 
Modern architecture flourished in Rotterdam with the Overblaak Development, Erasmus Bridge, De Rotterdam, and much more. The Overblaak Development is the famous cube houses in Rotterdam that paved the way for modern architecture in Rotterdam.
Piet Blom designed the tilted yellow cube houses to represent a forest. One of the houses was turned into a museum, you can check it out and view how a 45° angle tilted house can exist. 
The Erasmus Bridge is the symbol of the development and cosmopolitanism of Rotterdam. The 802m bridge connects the north and south parts of the city. Designed by Ben van Merkel and completed in 1996, this marvel of a bridge is nicknamed "the Swan" because of its elegant shape. 
The largest building De Rotterdam turned the city into a "vertical city". It is designed in such a way that it looks different from different parts of the city. This architectural feat houses various hotels, restaurants, and offices of Rotterdam.  
What makes the architecture of Rotterdam truly dynamic is that you can appreciate both the past, present and future through it. While modern architect lovers can appreciate the Cube Houses, others may love to catch a glimpse of history through the old architecture of the Delfshaven district.
The famous cube houses in Rotterdam: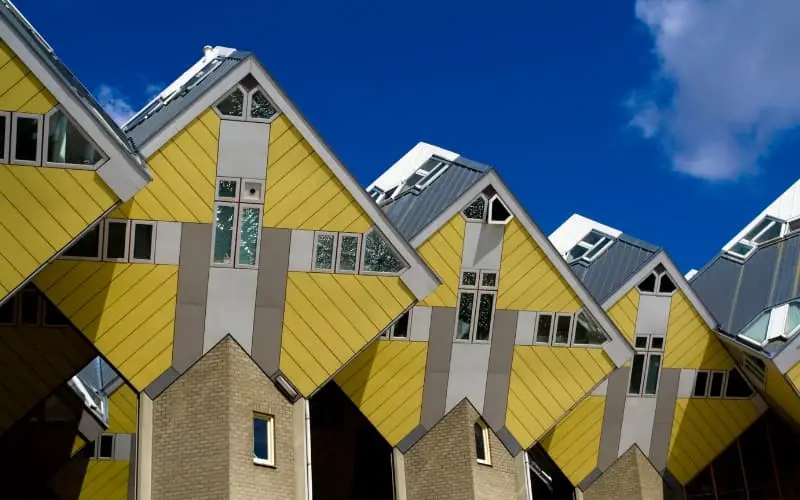 2. The Thriving Food Scene in Rotterdam
Rotterdam's food scene is thriving. From finger-licking local food to international cuisines, you will find everything in Rotterdam.
If you want to experience the local treats of Rotterdam, you have to try "Kapsalon". You will find it on every street corner. The Kapsalon is a combination of french fries, shoarma meat, lettuce, cheese, garlic sauce, and chili sauce. Kapsalon is one of my personal favorites modern Dutch streetfoods.
If you are looking for good coffee, drinks, and food, why not have lunch at Witte de Withstraat. Here, you will also find a pretty good kapsalon restaurant, De Cocosnoot. Other than kapsalon, you will find budget-friendly kebab shops and street food all over Witte de Withstraat.
Witte de Withstraat is teeming with travelers and locals- alike. Along with local street food, you will find international cuisines such as Surinamese, Indonesian, North African, and Middle-Eastern cuisine here. The Hotel Bazar situated here serves up delicious North African and Middle Eastern platters. 
Try out the traditional Dutch dessert poffertjes in Poffertjessalon Seth. It is a golden, fluffy, and mouth-watering Dutch mini pancake. For more delicious-looking desserts for the "Gram", you should head over to Lilith. Here you will find Acai bowls and stacked pancakes. 
If you want to keep your options open, you should visit the Markthal and Fenix Food Factory. From fresh food, local food stalls to special cuisine restaurants, you will find it all here. 
3. Shopping and Street Art in Rotterdam
If you are a shopaholic at heart, you will enjoy strolling down the Coolsingel district of Rotterdam. Here you will find cool shops featuring local and international brands here. While strolling and shopping, you will also encounter the cool street art murals here.
Again, if you want to take souvenirs back home, you can shop at the Tourist Information Office at Coolsingel, Rotterdam. You will find a plethora of locally made artistic products here. 
You can also shop at the popular Koopgoot and Lijnbaan shopping streets in Coolsingel. In these places, you will find a huge range of different brands, both expensive and cheaper.
Other than Coolsingel, you can have a great shopping experience at the Witte de Withstraat and Markthal. The shopping experience at Markthal is unique, as the ceiling of the indoor mall resembles a kaleidoscope. It is not only a market for fresh produce but a place where you can appreciate art.
Rotterdam has a group of passionate street artists who bring the city to life. You will always find interesting art pieces strolling through the streets of Rotterdam because of them.
MORE ABOUT ROTTERDAM?
Do you like Rotterdam? Then please check out our other articles about this city!

- 18 Best Things To Do In Rotterdam On A Rainy Day: 2022 Guide
- 52 Amazing Facts About Rotterdam (Facts Fully Explained)
Where to Stay in Rotterdam?
You will find hotels catering to all travelers in Rotterdam. The backpacker to the affluent traveler who likes to splurge, all will find hotels catering to budget to luxury rooms. Whatever hotel you end up choosing, try to book one in or near the city center, so that you have easy access to public transport and a spectacular view of the Rotterdam skyline. 
If you are looking for a hotel that provides a spectacular view of the Rotterdam skyline, the river Maas and the Erasmus Bridge, you can consider the Mainport Hotel and Nhow Hotel. The former is just a 5-minute walk from the city center, and the Netherlands Photo Museum is just a few steps from the latter. 
If you are into fancy boutique hotels or 1900s historic buildings, you can book the Suite Hotel Pincoffs or Hotel New York. You can have a luxurious stay at both the 19th-century elegant historic building or the classy custom house.  
The beautiful Hotel New York in Rotterdam: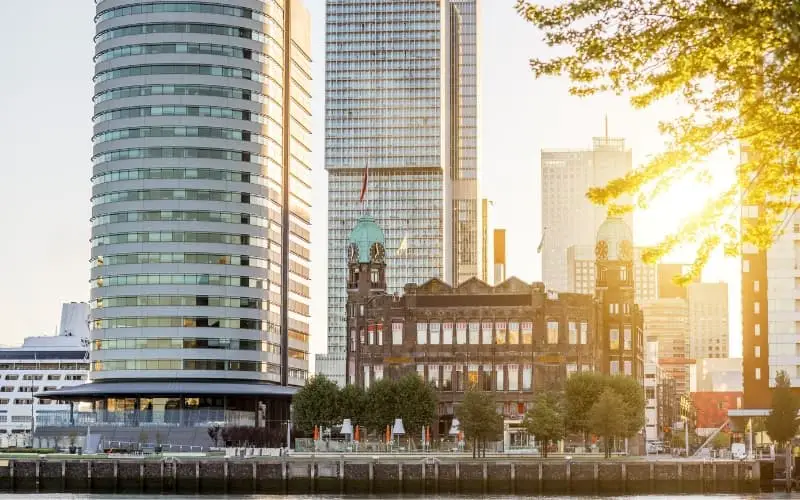 If you are looking for a pet-friendly luxurious hotel, you can check out the Hilton Rotterdam hotel. It is also near the shopping district and the Central Station. 
You can experience affordable luxury at the citizenM Rotterdam. Plus, you do not have to worry about traveling far to check out the various attractions Rotterdam has to offer from this hotel. Because it is located in the historic Oude Haven and just a few steps from the Cube Houses. 
For easy access to transportation, you can consider the Holiday Inn Express Rotterdam-Central Station. It is situated in the heart of Rotterdam next to the city center marketplace. The bright and spacious rooms of the Inn come with complimentary breakfast every morning.
Another worthy contender of mid-range hotels is the Hotel ibis Rotterdam City Centre. It is situated conveniently near the Maas River. It features small but bright rooms, an indoor restaurant, free parking, and other noteworthy amenities. 
For backpackers and solo travelers, the City Hub and easyHotel Rotterdam City Centre are two accommodations they can consider. If you are looking for a top-rated budget hotel near Central Station, easyHotel Rotterdam is the way to go. 
If you want a different experience, you can opt for the City Hub. It features tech-forward, budget-friendly and comfortable pods as hotel rooms. You can check-in and out without contact, use apps to control the room's light, set up alarms, and much more. 
If you are on a tight budget and do not mind a social setting, you can consider the King Kong Hostel. It features basic bunk beds and clean rooms with private bathrooms. 
What makes it lucrative is that you do not have to worry about public transport. It is situated in the busy Witte de Withstraat, where you will have no shortage of bars and restaurants to explore.
Conclusion 
Tourists who have never been to Rotterdam do not know what they are missing. The city has a lot to offer such as history, culture, art, food, and much more. In addition, a city that is so important to the Netherlands should not be missed during your visit to the Netherlands. 
Rotterdam city is buzzing with life, and you will not know the hidden marvels it has to offer if you do not visit this beautiful city yourself. Having stated that, I hope this article gave you an overall idea about whether Rotterdam is good for tourists or not. I hope Rotterdam will be on your list when you are visiting the Netherlands.